Pioneer Public – Allissa Logsdon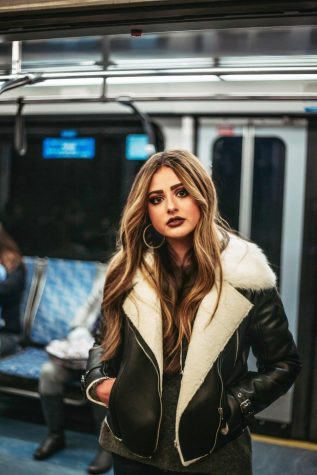 When looking for colleges to attend, Allissa Logsdon was attracted to Point Park's Pioneer Star contest. Personally never believing she would be good enough to win, she was honored to have won and be given the opportunities that come with winning the contest.
"I remember reading about it online—it sounded like a dream," Logsdon said. "A music video, a free professional EP and a concert at Stage AE!"
Logsdon, 21, had been interested in Pioneer Star since the start of her college career. Logsdon applied her sophomore, junior and senior year skills, winning her senior year during 2018-2019. Nothing is more amazing and rewarding than coming to college with a goal and reaching that goal right before she graduated in spring 2019 with a degree in sports, arts and entertainment management.
Logsdon has been involved with music from a young age. She started playing the piano at just six years old, and has now been playing for 15 years, and began getting serious about singing when she was in middle school. It wasn't until the last few years she started learning and playing the guitar and ukulele. She also grew up singing in her local church, making her comfortable on stage.
"I think when I really started wanting to perform was when I started writing music," Logsdon said. "There is something so special about singing your original songs to an audience. No one has ever heard them before … they have never existed outside of your own mind. They start as ideas in your head, turn into melodies in your bedroom and then all of a sudden, you are sharing your creation to a room full of people. It's like opening the door to your soul and letting everyone come inside. It's kind of magical… and scary."
Songwriting is one of Logsdon's passions, as she has been writing since she was about 13 years old. She mostly writes about her struggles and how she feels. Logsdon describes herself as not being outwardly emotional, and she uses her bottled up emotions in her music.
"Although my music is a little bit dark, I always try to incorporate an element of hope," Logsdon said. "My faith is the most important component of my music and really what inspires me to write. My music doesn't always 'scream Jesus,' but it opens the door for me to talk about my story, my struggles and how God saved me from it all. God gave me a voice and put music in my soul. It's because of Him that I do what I do."
According to Logsdon, each band/artist can submit up to three pre-recorded songs to the Pioneer Star Contest and other faculty members listen to all the audio files and decide the top three. Those top three artists will be interviewed and a winner is decided.
When Logsdon applied, she submitted recordings of two original songs, "House on Fire" and "Quicksand," playing piano on both tracks. She describes her genre as predominantly pop/rock.
"I perform a little of everything when I'm gigging, but the music I write is definitely edgy and dramatic!" Logsdon said.
Once a winner is chosen, they met with an audio engineer/producer at Red Caiman and together they will choose the songs that will be recorded on the winner's EP, one of the contest prizes.
"The recording, editing, mixing and mastering process starts around November and will go until around February," Logsdon said of her experience. "The Music Video Class starts planning the music video in January and begins filming in February. This year, the Stage AE EP Release Show was in March, and the music video premier was in April. After that, everything begins to wind down."
When it comes to support, Logsdon has the best support system she could ask for. Her sister and both parents have supported her from the beginning. After winning Pioneer Star, her dad designed her logo and merch, from t-shirts to posters to stickers and everything else in between. Her mom even baked cookies for the Pioneer Records bake sales and drove Logsdon back and forth from studio sessions, lessons and rehearsals from the time she was a child. According to Logsdon, her mom is even in the front row of every show she's performed.
"They were so excited for me when I won the Pioneer Star Contest," Logsdon said. "My parents have many do many sacrifices so that I could pursue my music. […] They were at every gig, even the middle school talent shows that I can't even bar to watch back now. Even when I stunk, they supported me. […] They have always encouraged me and pushed me to pursue my dreams even when I don't believe in myself. I am so thankful for them."