Pioneer Public – Lucy Leitner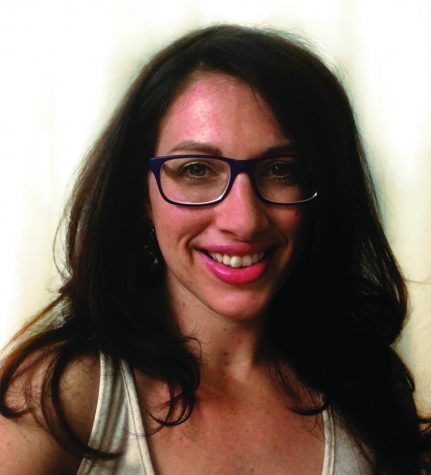 It was during a "boring" office safety meeting that 36-year-old Point Park alum, Lucy Leitner was inspired to write. During the next four years, she collected notes of her co-workers' behaviors and noted the resemblance to zombies, publishing "Working Stiffs," a horror-comedy novel, in 2012.
"One day I was forced to attend a company safety meeting in which the office safety consultant told us what to do in the event of emergencies like tornadoes, earthquakes and maybe even the Rapture," Leitner said. "It was then she mentioned an outbreak of workplace violence that I tuned in. The protocol was to barricade yourself in a conference room and apparently wait until the disgruntled employee ran out of ammo. I thought 'What do I need this for? I've seen 'Night of the Living Dead!'' And that's when the idea of zombies in the office was born."
"Working Stiffs" is a story of surviving a zombie invasion in a pharmaceutical company corporate office. Throughout the workday she would take notes on what office supplies could be fashioned into weapons against the zombies, and would send herself transcriptions of overheard conversations, ideas for characters and some one-liners that "just had to make it into the book."
In "Working Stiffs," a mad scientist CEO of a pharmaceutical company accidentally invents a serum that, when injected, turns people into zombies. The entrepreneur puts the invention to use to reduce the pesky overhead costs of paying employees by abducting homeless people and injecting them with the serum, using the obedient and flesh-hungry zombies to work his plant. Things seem to be going well until the zombie workers unionize and storm the corporate headquarters with demands, which is essentially eating as many employees as possible.
With a little help from her family and her skills as a journalist, Leitner was able to publish her first book and has more in the works. With some tips from her brother, who was attending screenwriting school, and from her mother, a copy editor, Leitner had a story with tension and perfect punctuation to give to the publisher.
"The story started coming together when I enrolled in Point Park in 2008 and kept a bizarre schedule that gave me large chunks of time to write," Leitner said. "Somewhere along the line, the plot started coming together."
Before graduating from Point Park in 2010 with a degree in journalism and mass communications, Leitner, from Arlington, Va., participated in the Innocence Institute and the Point Park News Service. She also had an internship with the City Paper and worked for the Trib.
Most recently, Leitner wrote a book with her father titled "Nemesis Selection," where a whistleblower goes on a dangerous mission to expose a decades-long conspiracy resulting in the current, and very real, conflict in the South China Sea. Right now, Leitner is working on the first series of a hard-boiled comedy detective.
"My time at Point Park helped me refine my writing and become a journalist. By day, I'm a writer in marketing [and] advertising, and you'd be surprised how much journalism influences my daily work," Leitner said. "I know how to ask the right questions when taking on a new project and how to tell a story…I know how to write a lede that grabs attention."