Pioneer Public – Mikayla Wilson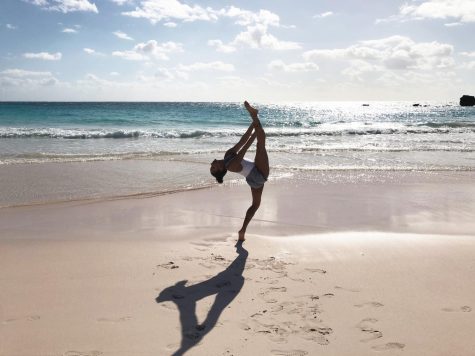 Coming from a very artsy family, it comes as no surprise that Mikayla Wilson would grow up a dancer in Bermuda and would go on to become a professional dancer in the United States.
"My mom was a dancer and my whole family is really artsy," Wilson said. "I guess it was bound to happen."
Wilson grew up in Warwick, Bermuda and started dancing jazz and ballet at four years old. By the time she was 16, Wilson was dancing contemporary and left Bermuda for Grier School, an all-girls boarding school near Altoona, Pa.
"My dance teacher [from Grier] is an alum from Point Park, that's how I met some of the teachers," Wilson said. "And then I did the summer program before my senior year [at Grier] and I never auditioned anywhere else."
Along with her prior knowledge of Point Park and the dance program, Wilson decided to attend Point Park for the opportunity to live in the city, the transportation back home and the small campus and school life that Point Park provides.
"I never wanted to go to a big school, because I've only been to small schools, and I thought a big school would be a lot," Wilson said. "I think Point Park is big enough."
After dancing in a number of styles growing up, Wilson was eager to take on something more technically strong, and decided to major in dance with a concentration in modern at Point Park.
Throughout her time at Point Park, Wilson has participated in six shows from her freshman year until now, her junior year. Most recently she participated in the Contemporary Choreographers showcase and was in "A Decline from a Sound of Prosperous Condition" choreographed by Martha Nichols.
Two of the shows Wilson has been cast in were student-run shows. The next show she will participate in will also be the first Student Choreography Project from Nov. 15 through 17, making it her third student show and seventh total show at Point Park.
According to Wilson, the area she grew up in doesn't provide many artistic outlets for kids. Her plans after graduation are to become a professional dancer, explore all kinds of dance and to eventually go home to Bermuda and help grow and expand the creative arts industry by teaching at dance companies or schools. Currently, there are very few opportunities for kids to dance and participate in creative outlets, leaving them to choose to drop their creative aspirations or travel elsewhere for the opportunity to study.
After growing up dancing, it is something that Wilson uses and practices on a daily basis, as it helps her deal with daily struggles and provides a good daily outlet for emotions.
"It just helps me to live without feeling stuck in the norm," Wilson said.