Pioneer Public – Thomas Dulaney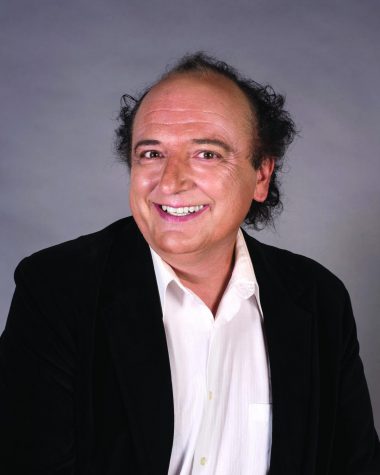 Growing up in a college town and coming from a family of teachers, it comes as no surprise that Thomas Dulaney would become a university professor.
"Teaching is my family business," Dulaney, 52, said. "My grandfather was a school teacher for over 50 years. My mother was a full-time social work professor for seven years. Since I grew up in a college town, [Morgantown, W.Va.] many of my friends' parents were faculty."
Dulaney received his undergraduate degree in political science and Master of public administration from West Virginia University. He went on to receive a Master of library and information science from Kent State University.
He has taught at Point Park for two years and currently teaches within the School of Communication but has a few courses within the Rowland School of Business. This semester, he teaches Media Ethics and Responsibility and Media Literacy. Previously, he taught Media Law and Problem Solving with Computers.
"Frankly, teaching at the college level is all I ever wanted to do," Dulaney said. "Teaching keeps me young, keeps me learning and allows me to interact with wonderful students."
Prior to teaching at Point Park, Dulaney was an Associate Professor at Eastern Gateway Community College in Steubenville and Youngstown, Ohio. There, he taught interactive media, including web and graphic design, web programming and various computer programming languages. He was also the advisor for Phi Theta Kappa, an international honor society of two-year colleges with the purpose of "promoting scholarship, leadership, fellowship and service among qualified students," according to the university's website.
Like many professors on Point Park's campus, Dulaney is a part-time faculty member, meaning that his day mainly consists of coming to campus to teach and then leaving right after due to not having an office or other amenities.
"Being a part-time faculty [member] is tough in a lot of ways," Dulaney said. "Usually, I come to campus to teach, then leave after class. I don't get to build the same relationships with students that being on campus more would allow. Usually I teach a course, get to know the students, then the semester ends, and I don't get to see them again."
Course scheduling can also be a tough part of being part-time faculty. According to Dulaney, the University "does a wonderful job" when it comes to scheduling courses for part-time faculty, but there can be some hiccups.
At the beginning of the semester, Dulaney was bumped from a course he was originally scheduled to teach because a full-time faculty member, who has priority, wanted to teach that course session.
"That's just the way the ball bounces, but the loss of a class is a loss of a third of my income," Dulaney said. "It's just the nature of the beast. However, the income for me is only part of the story. I really love being on campus, teaching, challenging students and getting to know everybody. So, it does make me sad."
Being a full-time faculty member adds a lot more work and responsibility than just teaching. According to Dulaney, full-time faculty members advise students, attend meetings, handle intense paperwork and other responsibilities.
"Full-time faculty are worth their weight in gold," Dulaney said. "When I was full-time, I taught 15 credits, advised over 100 students, oversaw course design and went to meetings. Any benefits full-time faculty receive are deserved, even if it's just for the meetings."
Outside of teaching, Dulaney is a doctoral student at Robert Morris University in information systems and communications. He also enjoys time with his wife Laura, a career counselor at Point Park, and their nine-year old daughter, Amelia Grace.
"Getting my doctorate has been a goal of mine for 30 years and it's about time I do it," Dulaney said. "Hopefully, once I finish, I can find my way back into the full-time teaching ranks. If that happens, the only way I will ever leave teaching is feet first."