Pittsburgh holds events for National Hispanic Month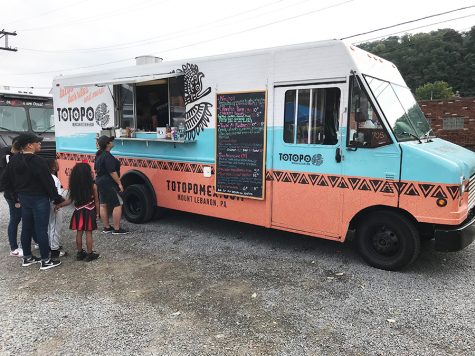 Sept. 15 through Oct. 15 marks National Hispanic Heritage Month. Pittsburgh has joined in with celebrations of Latinx and Hispanic cultures particularly this year. From Point Park to the Strip District, events have sprung up to connect the Pittsburgh LatinX and Hispanic communities to share their cultures with the city.
Point Park had their own celebration on Sept. 26 at Village Park from 5 p.m. to 7 p.m., courtesy of the LatinX Student Association here on campus. The group held the LatinX Kickoff, which was the first event of the semester for the organization. Ailén Videla Ortiz, a senior double dance and psychology major, is the president of the LatinX Student Association. Videla Ortiz said that the timing of the kickoff did intentionally coincide with National Hispanic Heritage Month.
The club's focus will not just pertain to Point Park. Videl Ortiz is intending to become more involved with local LatinX organizations around Pittsburgh.
"We are a pretty new club, so we are reaching out to the Latino Community Center here Downtown [and are] trying to see if some of them will come speak about what they do and get more volunteers for their [projects]," Ortiz said.
That following Sunday, the Strip District featured the Pittsburgh Latino Festival 2019, the first of its kind for the city.
The organizer, Dan Bartow, was inspired as a proprietor of "Cool Beans Taco Truck" to gather all Latinx inspired food vendors in one place.
"The goal is to get the Latino community together, and all these vendors are paying a minimal fee of $50 just to rent the parking lot. So they have an opportunity to show their food and bring their family and their friends all out together as [part of] a festival," Bartow said. "So it's all about the community, and hopefully it grows."
The event had nine food trucks, eight vendors and even a DJ playing music. Dozens of people roamed around the parking lot space located on Smallman St. and 22nd St., trying food from the various purveyors.
One of the vendors there was "Big Diehl Peppers," co-owned by married couple Racheal Diehl and her husband Terry Diehl. The Diehls pride themselves on organically grown and produced spices, which range from a scale of one to ten.
"If you're feeling hot, go for the ten. If you're scared, go for the one," Racheal Diehl said.
"Big Diehl Peppers" mainly sets up during events catered for vendors. Racheal Diehl was particularly excited to be servicing customers in Pittsburgh's Strip District.
"I just really love the Strip District because it has such a sense of community," Diehl said. "I think it's one of the most colorful areas of Pittsburgh. You see all these different cultures coming together all the time. And I always love being down here, being able to see that."
Another food truck at the event, "Totopo," uses their truck for mass events like this one and for catering, but they also have a restaurant in Uptown Mt. Lebanon, a neighborhood in Pittsburgh's South Hills. "Totopo's" food truck menu included a range of items including nachos, quesadillas, empanadas—even chicken tenders and fries.
Marco Honores, a Totopo employee, said that his favorite item off of the menu is the Pastor (pork) Burrito, but insisted that all the food was good.
For Honores, being able to serve food to people in the Strip District meant more to him than just promoting the restaurant.
"We feel we're being counted in the community for our heritage and Hispanic pasts. I mean, we love it," Honores said. "Sometimes we want to feel [a part] of this country because we are Latino, we want to be part of it. When we have these kinds of events, we really like it because we want to show our traditions and our way of living to show who we are."
Although the LatinX Student Association was not attending the festival as an official event, Videla Ortiz said that some members were planning on going.
"I think it's really good, especially for Pittsburgh," Videla Ortiz said. "I think…definitely bringing in a festival to celebrate the Latin community is really important."