Security updates met with frustration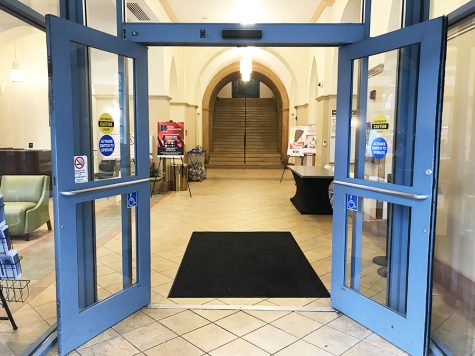 This past Tuesday, Assistant Vice President and Chief of the Point Park Police Department Jeffrey Besong announced to students via email that the university would be implementing turnstiles in an attempt to improve security in Lawrence Hall.
The email stated that the new turnstiles would be installed throughout the coming weeks and in the future would be added to other buildings around campus. Besong also wrote that visitors will still be required to sign in with the desk attendant in Academic Hall. 
"Our goal is to provide a safe environment for students, faculty and staff, and we are always looking for ways to upgrade security on campus," Besong said. "We are asking for everyone's patience as we implement these changes." 
The email garnered immediate backlash from students, many of whom felt that Besong had ignored their voices and made the decision too hastily.   
Emily Harnett, a sophomore acting major, also mentioned her concern with the lack of communication between administrators and students. 
"I think the first step could have been a survey sent out to students asking where they feel unsafe, that kind of thing," Harnett said. "Just getting the email was very alarming considering there wasn't that much information."
Harnett said her biggest fear was that the new turnstiles would cause problems for those with mobility disabilities, a fear she said was only heightened by the lack of details in Besong's email.  
"When you think of the equipment they're implementing, you think of the one that has the bar," she said. "There are some that open, but there was no information given."
While Besong did not mention in his public email what the turnstiles would look like, he gave The Globe a more detailed description of the equipment. 
"There will be two sets of Barrier Optical turnstiles with swinging glass panels, one standard and one ADA," Besong said. "They have a tailgating detection; an audible and visible alarm will be activated when an unauthorized person attempts to pass through." 
According to their website, The Americans with Disabilities Act (ADA) prohibits discrimination against individuals with disabilities in all areas of public life. It helps ensure that those who have disabilities are provided the same rights and opportunities as everyone else. 
However, Harnett suggested that even special ADA turnstiles could still cause problems because it could potentially limit crowd control. 
"This system provides a lot slower time period for people to get into a building, and some people with mobility issues have a hard time standing for long periods of time as well," she said. "If you have someone who has a connective tissue disorder, and let's say [their] knee pops out. They fall and they're fine because they know how to get their knee back in, but now there is a giant crowd around them, which provides more danger. We just don't know how quick the system is." 
Outside of disabilities, Harnett also talked about size discrimination and how she felt it was inappropriate for the university to ignore the topic entirely. 
"Fat liberation is really important and so making people feel uncomfortable because they can't fit through a certain space is discriminatory," she said. "It's nerve racking and it's really messed up that there are no details and then suddenly they implement something without talking to the student body." 
Megan Ortega, a junior cinema production major, said she wrote a list with her friends that explained why they felt the turnstiles and the email itself could be a problem for the students. 
"We aren't being notified and we aren't being given details about what's going on," Ortega said. "I wish [Besong] would hear out the students more." 
Ortega said she initially questioned why the university didn't spend the money used for the turnstiles on desk attendants. 
"My thing is, why not just use the money that they are using to build the turnstiles and instead just hire extra security," she said. "I think that's all we really asked for when we talked about safety. We don't want a bajillion hoops we have to jump through just to get into our school." 
In an interview with The Globe, Besong alluded to the idea that turnstiles would actually save the university money in the long run. 
"The turnstile is a one-time expense compared to yearly costs for desk attendants," Besong said.
Harnett and Ortega both made it clear that they weren't opposed to security, they just felt that students were being excluded from the conversation. Ortega even suggested that Besong attend a USG meeting so student representatives could talk to him and express concerns. 
"It's just about more communication before something big happens," Ortega said. "That way the administrators could hear the student's cons, because I assume they thought of their own cons."
Harnett called for Besong to be more open to the students in the future so problems with communication could be avoided. She also said she wanted to talk to him because she felt like the new turnstiles posed problems for students and she wanted to understand his point of view.
"Let's have a discussion because right now the disabled body of this campus feels ignored and neglected, and [Besong] has an obligation to think about everyone's life here on campus," Harnett said.