Seeking Counsel on Campus: A Collaboration between The Pitt News and The Point Park Globe
An exploration of the pros, cons of group therapy
By Jordyn Hronec and Andrew Brinker
Editor-Elect and Former Co-News Editor
Gabby Ritterson, 19, from Old Bridge, N.J., attended group therapy for two years due to ongoing experiences with mental illness. 
Grace McAfee, 19, from the North Hills of Pittsburgh, attended several group therapy sessions with her immediate family in an attempt to sort out issues amongst themselves. 
Group therapy is also often used to treat serious addictions. In fact, as of 2017, the Alcoholics Anonymous organization, a popular provider of group therapy for individuals battling addiction, estimated that approximately 2.1 million people actively utilize their services.
On the collegiate level, the use of group therapy is also expanding quickly. But, the explanation for this growth is mixed.
The Center for Collegiate Mental Health at Penn State conducted a survey in 2016 regarding the demand of mental health services on college campuses, the results of which were published in the Journal of College Student Psychotherapy. The survey found that usage of college-provided mental health services was up 38.4% (29.6% of which was student usage) over a five-year period. 
The article also detailed a study conducted at an unnamed university in the mid-Atlantic region, that aimed to discover whether group therapy programs could save "clinical" time. The university's counseling center ran seven different therapy groups over the course of the semester. Groups included sexual assault survivors and members of the LGBTQ+ community. The study revealed that group therapy did not definitively save time or improve efficiency. 
But at the collegiate level, group therapy appears to be the way of the future.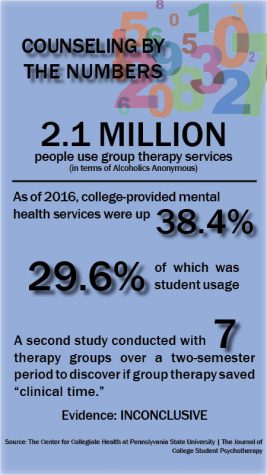 On college campuses in the Pittsburgh region, several counseling centers are expanding their programming to include group therapy. This includes Robert Morris University, Duquesne University and Point Park University.
The University of Pittsburgh and Carnegie Mellon University have intricate existing group therapy programs that include multiple specialized groups. Some Pitt students, however, feel as if they are being pushed into group therapy rather than being allowed to meet with counselors one-on-one. In an interview with the Pitt News in April, Pitt's new counseling center director, Jay Darr, said the idea that Pitt's counseling center forcing students into group therapy is a "myth."
"A student can always come back, and say, 'Hey, this sort of combination of services is not working,' so they can come back during our walk-in hours, or during their scheduled appointment, and meet with a clinician and say, 'hey, can we talk about adjusting some things?' or the clinician can say, 'Hey, I can see that this is not working for you. Let's talk about adjusting what's best for you,'" he said. 
Kurt Kumler is the current director of counseling services at Point Park University. Kumler previously served as the executive director for counseling and psychological services at CMU. Under Kumler's direction, the Point Park University counseling center shifted last year to include group therapy in its list of services, which also includes individual therapy and outbound referrals. 
"We did have a lot of student input, which is something I'm always interested in seeking," Kumler said. "It was kind of real-time…a lot of students were coming in for counseling. And we didn't have enough space or enough therapists, so this would be a relatively standard idea to try and offer additional services that can touch more students."
Kumler stated that about midway through the Fall 2018 semester, demand for counseling services was higher than what the center was able to provide. During this time, the center began to offer additional services, including group therapy.
Adding group therapy to the menu of services offered by a counseling center is a "real-time strategizing effort," that is currently rising to popularity among universities nationwide, according to Kumler. 
But Ritterson, who utilized Point Park's counseling services during the fall semester of 2018, said that the existing program was not helpful.
"I did not gain one thing," she said. "It was a waste of my time and a waste of my effort. I put too much trust in the university and in the program."
Ritterson detailed a lack of availability, ineffective therapists and a limited time period with a counselor per student as her main issues with the school's program.
On Pitt's website, there are details regarding their group therapy programs and what students should expect upon joining. The Point Park University counseling center also provides information regarding group therapy programs on its website.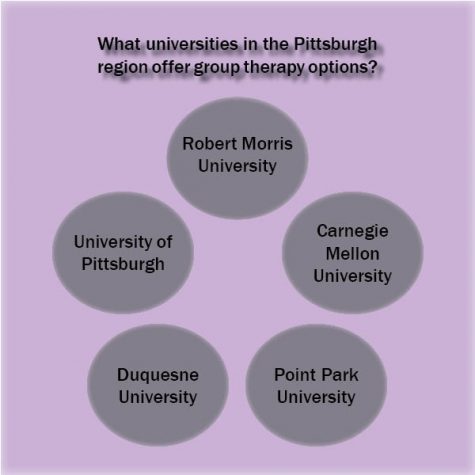 The website also highlights the importance of confidentiality in a group setting.
Dean of Students Keith Paylo worked with Kumler to implement the new program. Paylo stated that the uses for group therapy are most often situational, but also made it a point to highlight the positives of group therapy.
"Peer support is a big benefit," Paylo said. "You're sitting in a group therapy session and the light bulb goes on that says 'I'm not alone.' There are other people that are experiencing the same exact or very similar thing that I am and in many things in life, that's good to know."
But the growing practice also has its negatives.
"You're going to have that person who always raises their hand and monopolizes the time," Paylo said. "In an atmosphere such as this, the person's level of anxiety probably is at its highest because you are starting to share very personal things. And so human nature, you start to talk a lot and you start to ramble."
In McAfee's experience with the group therapy model, time restrictions were a prevalent issue. While the therapy aided her and her father's relationship by creating an environment for them to listen to each other, her and her stepmother's relationship became more strained.
"It was mostly just my stepmom talking for 45 minutes, and then my dad and I talked about how she took up most of the time for five minutes, then we'd leave… It was a damper on my and my stepmom's relationship, because when I gave feedback, it wasn't really respected," McAfee said.
Ritterson, in her personal experience, also saw issues with the model.
"I found myself asking these therapists one day, what makes you qualified to talk to us about depression, anxiety, Tourette's, OCD, self-harm, eating disorders – what makes you qualified?" Ritterson said.
Paylo indicated that resources and cost required for individual therapy partially accounted for Point Park's introduction of group therapy.
"You're never going to be able to match the needs of what is coming to us with the services that are available," Paylo said. "This is just where we're at in society today. There is a much bigger ask than there is the ability to meet those needs for that ask. What group therapy can do is get an individual a quicker response and therapy than waiting for a one-on-one."
McAfee is a current student enrolled at the Community College of Allegheny County's North campus. CCAC does not currently offer group therapy through its counseling centers.
"When I went, especially because it was family therapy, and for my family, I feel like it was forced feedback," McAfee said. "Because there's this stigma where you go to therapy and things have to be immediately solved or there's something else wrong. So I don't feel like the feedback I received was helpful."
McAfee, who has also experienced extensive one-on-one counseling, recognizes group therapy's potential to be time-saving, whether it be at the cost or benefit to the patient.
"Sharing my feelings with my family in the room was one of the most awkward things ever," McAfee said. "With group therapy, you can sit down a bunch of kids and give them some vague topic and let them hash it out. Because one-on-one counseling is time consuming." 
"The idea, in my mind, of group therapy is to make you feel like you're not alone and to learn from other people," Ritterson said. "And these people have definitely had an impact on my life, the other people that I was in therapy with, but they didn't make you feel less alone."
According to Ritterson, while peer support is beneficial, a fundamental issue of the practice lies in the therapists. But Ritterson, echoing the reasoning of Paylo and Kumler, did find some elements of the group dynamic appealing.
"It [the group] made me realize that there was more wrong with me than I thought," Ritterson said. "When these people [other group members] would say they were bad, they were feeling the same exact things as me, and I'd be like 'oh, okay,' like that actually is really bad. It helped me work on myself more because I realized a lot of underlying factors."
But ultimately for Ritterson, the extended list of cons of group therapy outweighed the potential positives. Since her experience in a group environment, the college freshman has only participated in therapy in a one-on-one setting; and she plans to keep it that way.
"It [individual therapy] was all around better," Ritterson said. "I benefited so much more because I found my one therapist that made me feel really good. I feel like group therapy could be more helpful than it is, and I get why colleges are moving in that direction, but at least in my experience, the execution of it really made it something bad to me. They need to work out the kinks before they make this big push."

Stories from the ground floor of Nordenburg Hall: Pitt students discuss their experiences with the University Counseling Center
By Christian Snyder
Editor-Emeritus of The Pitt News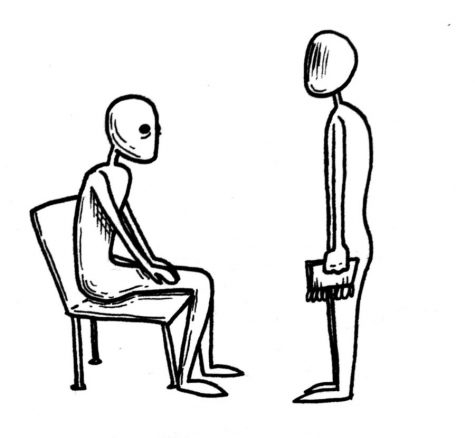 I am a recent graduate; I started at Pitt in the 2014-2015 school year. I have bipolar disorder, and I've struggled with self-harm and suicidal thoughts. This made my education difficult, but for my first two years at Pitt, I was able to visit the counseling center for regular psychiatrist and therapist visits…After my first two years, the counseling center changed to limit the number of sessions a student could have, and I was dropped from their system. It was difficult, but I found a new psychiatrist elsewhere.
A year or so later, I came back to the counseling center to find somebody to talk to for a few therapy sessions to help me through a personal issue. At the triage appointment, they determined that my bipolar disorder and the thoughts of self-harm that came with it were too severe for their services. The referral system wasn't very helpful and I ended up just not seeing anybody through this difficult time. I think it's great that the counseling center wants to help more students, but I felt like they were leaving behind students whose problems were "too severe."
– Eli '18
Here's my story. I first started to noticed I was falling into a depression toward the start of my junior year. I eventually signed up to speak with a counselor who then referred me to a therapeutic group. I found my experience with mental health services at Pitt to be wonderful, and I still think about to it today. I am currently a social worker, and I work as a facilitator in therapeutic groups. While I was already on my path to social work in my junior year, my time as a client in a group at Pitt really encouraged me to take a risk and accept my current role on the clinical side.
– Mike Rosenberg, School of Social Work '13
I'm currently a junior on campus majoring in rehabilitation science and psychology. Mental illness has affected me throughout my entire life…I have sought help many different ways since high school, through the Pitt counseling center, hotlines, text lines and private therapy. During my freshman year at Pitt, I lost a friend to suicide. 
The Pitt counseling center does what it is capable of, but it has its limitations. One center responsible for treating over 20,000 undergrad and grad students can only handle so much, but many students and staff are working to try to make changes. As both a recipient of care and advocate with the club Active Minds, I talk with a lot of students that have both good and bad experiences with the counseling center. We talk through the bad experiences, as well as reach out to other students about their experiences, try to fill in the gaps of care, provide education and resources and connect people to off campus counseling. We are working on communicating these issues to our advisor in the counseling center, and plan to work with the new director in the future to voice what we have seen on campus…
As for my own mental health care, I have settled happily into off-campus therapy. The Pitt counseling center actually also can do referrals via email (without an in-person appointment), which I think is really under-advertised and would greatly ease the waitlist. A lot of students already know they just want private therapy but don't know where to look, and the counseling center has staff that can be emailed for referrals. At Active Minds, we have developed one presentation/workshop on finding a therapist that we will be trying to bring to different student groups in the fall.
– Julia Lam, '20
I used the counseling center, specifically Pelin Duzenli who is the main psychiatrist. She was one of the most awful experiences I had at Pitt. I started seeing her spring of 2017, and she prescribed me meds, one of which had very bad withdrawal if one day is missed. I was fine on them and had tons of check ins, however when it came to the semester ending, I found out she did not write me enough refills to get through summer…So, I had the worst withdrawal of my life for weeks until I managed to get my PCP who originally prescribed the meds to give me one refill as an emergency. I felt worse than I ever had and was at my lowest on top of the withdrawal that was awful…It was completely unprofessional for a psychiatrist to be that careless and endanger a client's life. She also tried to do it again the next summer, but I found out before spring semester ended so I was able to call and get her to refill. Pitt needs more psychiatrists, specifically competent ones. I am not the only one who has had a problem with her.
– Madison Shaftic, '18
I found the mental health services on campus pretty frustrating. I got diagnosed with anxiety spring of my freshman year and depression in the fall of my sophomore year. These were both diagnosed through my really amazing doctor at student health. With her help, I got an emergency evaluation appointment the next day. They essentially said that I wasn't bad enough to be considered for anything that is more involved than therapy two times per month, but then followed it by saying that they didn't have any space for me. Then they sent me a list of people to try and told me that I could come for a workshop where they talked about specific coping skills if I wanted to. I tried four therapists/counselors, and none of them helped at all… Nobody in student health/the counseling center/or otherwise explained to me why therapy is supposed to help, but I just thought it was something I was supposed to do. I think it's absolutely unacceptable that our services are so lacking when we have a large student population who desperately needs mental health support…
– Madi Scull, '19
I am a current senior engineering student. I have struggled with my mental health throughout high school, but it was exaggerated while in college…I came from a "below-average" high school, and I was nowhere near the academic level of most of my classmates. This took a toll on me, where if I reached out for help, I was always greeted with the response, "You should know this from high school."
As I became more acclimated to the climate of college life, this mentality did not change. I decided in my second semester to visit the counseling center. I called and made an appointment two weeks from then. I had to wait two weeks while my life felt like it was crumbling down around me…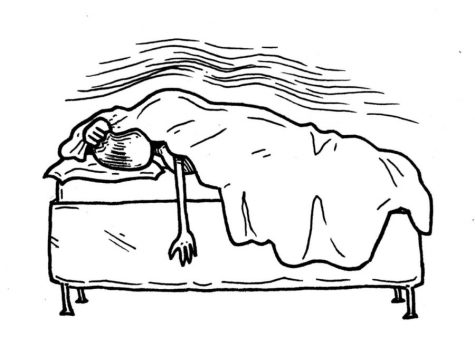 When I got to the counseling center, fifteen minutes before my scheduled time, I had to wait another half hour past my appointment to even have my name called. I walked back, and learned that the person I was seeing was not a licensed counselor, but a grad student. I felt like I was being thrown to the side, like I wasn't good enough for someone licensed to handle these situations. I explained that I felt like I was not good enough, smart enough, capable enough to handle college, and she offered little to no feedback. I started crying and hyperventilating because I had no idea what was going on, and my mind was running through millions of thoughts. She left the room at one point to go talk to a colleague, and she came back and told me they were going to transport me to Western Psych for a preliminary scan. I just started sobbing more, since that took away from my studying time, but they called Pitt Police to make sure I got there.
Western Psych was a whole other story, but, needless to say, I was there for five hours, watching HGTV in the waiting room by myself. The doctor saw me for 10 minutes, told me to go to a triage assessment off campus, and let me leave. I went to that triage, and they told me I would have to attend meetings three times/week for three-hour meetings. That was absolutely not doable along with school, so I left and never went back. 
Fast forward to junior year, I went back to the health center for a different, but related, problem, which was PTSD from rape and an eating disorder, both of which sprouted from my previous relationship with my ex-boyfriend. I went to the health center first because of the subsequent bodily health issues. I had a wonderful experience with the doctor; she explained why I was feeling faint and why I was always tired. She also told me that I had mental health issues that needed to be straightened out along with the bodily health issues, and she suggested right away to see someone off campus…I was glad to set up an appointment, but still anxious she would send me straight to Western Psych again. I had my first meeting with the therapist, who is in Squirrel Hill, and I've been going to her ever since.
I am ashamed to go to a university that has such poor policies for mental health, especially since Pittsburgh is so centered with hospital systems (UPMC, Highmark, AHN). Eight meetings per academic year is absolutely abysmal. It does not even cover one semester of weekly meetings. For some students, like me, having a therapy on campus is absolutely important, since academics are held at a high prestige. However, I see that I get better care elsewhere, so if I have to go elsewhere, so be it. 
– Anonymous, '19
Both stories are also available at mentalhealth.pittnews.com