Some Pittsburghers demand reparation for systemic racism
Pittsburgh City Council hosts public hearing for 'self-determination'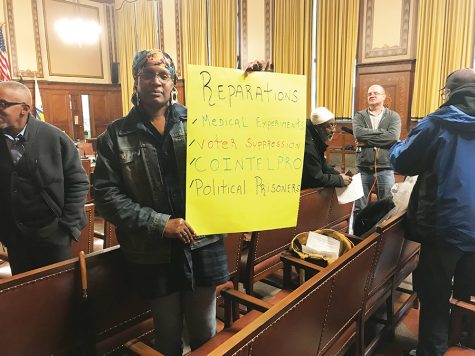 Pittsburgh City Council held a public hearing on Oct. 16 to discuss the merits of awarding reparations to the black communities of Pittsburgh at the City County Building at 2 p.m. The event opened with several speakers who either spoke of their own stake in the issue or as representatives of official organizations. Once the 'public comment' portion of the meeting had ended, city council members made their own remarks. 
The first speaker was Khalid Raheem of North Side's Manchester neighborhood. His organization, the New Afrikan Independence Party, submitted a petition for the council to have this public hearing on Sept. 10. The petition became a bill, officially titled 2019-2033 by the council, and was filed due to the "legacy of slavery, Jim-Crow and the continued systemic and structural oppression of white-sumpremacy and economic injustice," according to the council's record. 
Raheem spoke of how the national issue of systemic racism and legacy of racist policies have their own particular history in Pittsburgh and the surrounding region. He cited examples of Pittsburgh-based company U.S. Steel's own discriminatory practices towards black residents and workers as well as the fact that educational institutions like the University of Pittsburgh and Robert Morris University have direct ties to slave labor and slaveholders. 
"…often times, we don't think of Southwestern Pa. as having strong ties to the really structural organized institutions of Jim Crow. Structural institutions that ruled white supremacy and economic injustice and exploitation of black people." Raheem said. 
Raheem is a local grassroots activist who is passionate about reparations. He has a website, a Facebook page and a Facebook group concerning the topic, all of which emphasize "self-determination" for black Pittsburghers. 
The legacies left behind by slavery and Jim Crow were not the only issues discussed. Major hot topics in the media such as mass incarceration of black Americans and police violence against black people were discussed. Some lesser known subjects, like convict leasing, discriminatory healthcare practices and the wealth gap were equally scrutinized at the hearing. 
Yusef Ali grew up in Pittsburgh's East End neighborhood and is a 75-year-old resident of the Point Breeze neighborhood today. Ali's main concern was the racial wealth gap. He specifically addressed the wealth disparities between African Americans and the predominantly white wealthy class. 
"And the only [way] that it can actually be dealt with effectively is to consider—well not consider—is to implement a policy that deals with repair, deals with some kind of restitution, and deals with some kind of exclusionary policies and issues that are directly connected to the economic disparity that exists between those communities," Ali said. "Representation…is very crucial to eliminating economic disparity and differences. The government has to take some responsibility for the tremendous wealth gap." 
Originally, there were six registered speakers, and Raheem was the only one to show up on time. Another registered speaker, who arrived late to make a statement, was Jackie Smith, a professor of sociology at the University of Pittsburgh. 
A team of researchers from the University of Pittsburgh helped the Gender Equity Commision (GEC) to work on the "Pittsburgh's Inequality across Gender and Race" report, released on Sept. 17. The report found that white residents of Pittsburgh statistically have better standards of living than their black counterparts. 
Smith said that the University of Pittsburgh is now presenting findings for the Universal Periodic Review of the United States to the United Nations. 
"We're providing input to the United Nations as it looks at the U.S. human rights record, which has been outstanding in the world for its consistent and extreme violations of rights in regards to racial disparities," Smith said. "We have a number of recommendations that are emerging as we discuss these ideas and look to other cities to see what they've done to try to remedy some of the past structural violence against people of African descent in our country. And I think what cities can do—and what Pittsburgh has agreed to be a leader on when we committed to becoming a human rights city in 2011—we need to promote a culture of human rights and do much more to put resources and leadership behind that commitment." 
Smith also mentioned that she and her staff would return to city council in the spring once their full review was complete. 
Five out of the nine council members were present at the public hearing, each of whom gave remarks thanking those who had come to the hearing. President of City Council Bruce Kraus said that other members who did not attend had schedule conflicts. Councilwoman Deb Gross of District 7 serves as a commissioner on the GEC. 
"And we've had a number of important conversations with members of the public even this week," Gross said. "There's a lot of a reaction, rightfully, to another report saying how bad things are. We've had reports from ten years ago, from twenty years ago, from thirty years ago and things aren't getting better. So I think the burden and responsibility here is to say: "Okay, let's try to actually do better, and not just acknowledge the report but to take action on it."
For a petition to launch a public hearing at city council, petitioners must be able to able to vote, be residents of the city of Pittsburgh and have to intend to attend the public hearing. A petition is only considered valid with a minimum of 25 original signatures. When a petition concerns pending legislation, petitioners must present it to the City Clerk within three days of the legislation being on the council's agenda.