Twin-sister duo Tegan and Sara release album with reworked demos from their teenage years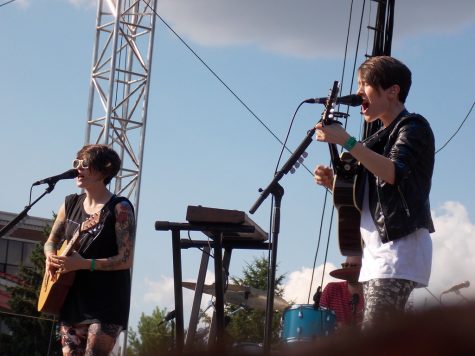 The Canadian indie pop twin-sister duo Tegan and Sara are back again with their ninth studio album, "Hey, I'm Just Like You." The album features re-recordings of cassette-tape demos from their teen years. This album marks a slight return to the edgy, indie rock sound of their early albums, making it highly evocative of their previous albums, such as "Under Feet Like Ours" and "So Jealous," while still retaining the synth-pop vibe of their most recent albums, "Love You to Death and Heartthrob." The album was released in conjunction with their co-written memoir, "High School," a poignant, nostalgic novel chronicling their teen years in the 90s. The album is a companion piece that also speaks to the feelings of being a teenager, in love, angry, angsty, and the end result is oh so nostalgic to those high school years.
"Hey, I'm Just Like You"
The title track of the album does not disappoint. The catchy synth combined with the guitar solos shows the clear mix of their old and new sound. This song is highly approachable for fans of Tegan and Sara's more recent work. This song sounds like it would have seamlessly fit in with their 2016 album "Love You to Death." Listening to the original demo, "Plunk Song," shows that the main elements of the song were barely changed. Other than the addition of the synth pop elements and some slight lyrical changes, the song sounds very similar. The melody was not touched in the re-working of the song, so it retains a lot of the sound of the original demo.
"Don't Believe the Things They Tell You (They Lie)"
This song was one of the very first songs that Tegan and Sara ever wrote as a duo. They actually wrote this song in 1996. This ballad is much more somber than, "Hey, I'm Just Like You." The lyrics of this song are primarily about how when you are a teenager, you are not truthful and often lie to the people you love. Specifically, the two girls were writing about lying about going to parties, drinking and doing drugs, sneaking out, and about their sexuality, which they were both struggling with. The duo is very outspoken about LGBTQ+ rights. In this song, they speak heavily about both of their struggles with discovering their own sexuality. This song exemplifies the feeling of needing to lie about a part of yourself. In an interview with Genius, Tegan said "I think there is something about owning that you are also a liar. Parts of yourself are false and parts of what you are projecting to the world are false and admitting that in the song feels really important."
"I'll Be Back Someday"
The single released before the album, "I'll Be Back Someday," brings any 90s baby back in time to the days of watching MTV and chatting with your friends on your landline phone for hours at a time. This song feels instantly nostalgic the minute you turn it on with that classic 90s pop-punk guitar riff and drums. All in all, the vibe of this song is just so emblematic of good old days when we still watched movies on VHS tapes and listened to music on cassette tapes and CDs.
"I Don't Owe You Anything"
This anthem of teenage love and angst is arguably a standout on this album. (At least both my fiancé and I are big fans of it). If someone told me that this song was meant to have been on "Heartthrob," I would have believed them. It has such a sweet, melancholy feeling to it which just reminds me so much of that album. With that being said, this song is so vital to the album. It eloquently ties in the elements of their early rock heavy music with their current pop style.
"Please Help Me"
This ballad is essential to this album for the way it portrays the feelings of being a teenager scared of their future. One of the opening lines clearly sets up what the song is about, "What if I become all the horrible things, I said that I would never be? Waste my life and then never see" This fear of fitting a mold of adulthood you don't want to be a part of or never achieving the goals you want for your future are such an integral part of the teenage experience. The rest of the lyrics of this song strike many of the same chords of being scared of what is in store for you in your future. Tegan and Sara described this album as a "record they never could have made as teenagers, full of songs they never could have written as adults." This feels like one of those songs that perfectly captures the essence of adolescence. I don't think they would have been able to so succinctly capture these feeling if the song was written in adulthood.