Volleyball finishes three-for-three in last week's matchups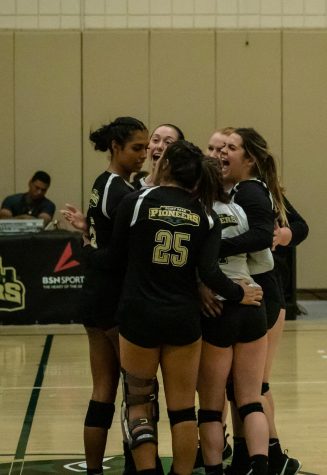 Point Park's record reflects only one loss in Pittsburgh this season.
The Pioneers defended their home court last weekend and swept Carlow University on foreign territory.
"Winning at home is a different atmosphere," senior setter Julia Menosky said. "You're proud when you win at home having all your friends and family here. Winning on the road, you have more of a chip on your shoulder. It feels good to beat the opposing team on their home court [and] gives everyone a confidence boost."
Point Park opened River States Conference (RSC) play last Tuesday at Carlow University, a neighboring university in Oakland.
The Celtics came closest to the Pioneers' strength in the third set, but it wasn't enough to top the green and gold. Point Park won by scores of 25-17, 25-11 and 25-23.
"Against Carlow we did a great job of being scrappy and running new plays with our hitters," senior Haley English said.
English, sophomore Madison Sima and freshman Taylor Small led the Pioneer attack with 10 kills apiece, claiming half of Point Park's 45 total kills.
"We noticed that they were less effective when we spread the ball around, so we capitalized on getting all our hitters involved," English said.
Senior Maria Ferragonio displayed her versatility during the Carlow match, trading in a high kill count for the team-high assists. Ferragonio racked up 24 assists and 11 digs for a double-double, and Menosky followed with 10.
Sophomore Ashley Castelli picked up 19 digs to lead the Pioneer defense, English recorded 14 and junior Micaela Shevell chipped in 13. English finished with the second double-double for the match.
Following the road victory, the Pioneers returned home to defend the court of the Student Center Gym. Point Park celebrated its first home win on Sept. 17 in a non-conference match-up against Salem University.
After this weekend's 3-1 victories against on West Virginia Tech and University of Rio Grande on Friday and Saturday, respectively, the Pioneers are now three-for-three in home victories as well as RSC play.
"We are really taking conference one game at a time…Our goal is to host the conference tournament, so every time we step on the court, we are working toward that goal," Menosky said.
The Pioneers topped West Virginia's Golden Bears by scores of 25-23, 25-23, 23-25 and 25-19. Point Park repeated the 3-1 victory the next day to send the RedStorm home by scores of 24-26, 25-14, 25-22 and 25-22.
Castelli, English and Shevell led the defense in both games with Castelli totaling 47 digs on the weekend. Small took control at the net to lead the team in both matches with 16 kills on Friday and 15 on Saturday.
The weekend's victories thrusted Point Park to the top spot in the RSC East, and it shares the same conference record (3-0) as RSC West's Indiana University (IU) Southeast and Indiana University (IU) Kokomo.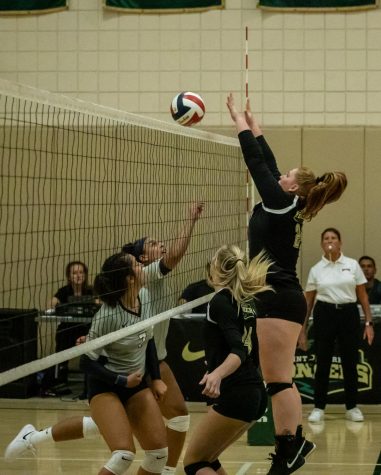 "A huge goal of ours is to stay number one in our division," English said. "We know that every team is looking to beat us and that motivates us to get better every time we step in the gym. I think if we continue to be aggressive, and challenge each others weaknesses at practice, we will have no problem defending our number one spot."
Before Saturday's afternoon game, retired Pioneer volleyball players returned to the Student Center Gym for the annual alumni game. Among the alumni were Kelsey Veydt, Nikki Inquartano, Shiloh Simonson and Ashley Taylor.
"During the alumni game, it felt like nothing changed honestly," Taylor said. "We all had a blast, laughing so hard, being together, and just playing the sport we all love and miss. It definitely is hard to be on the outside watching, but I'm so proud of all the things I accomplished while being on the team."
The Pioneers, now 12-2 overall and 3-0 RSC, have a long road stretch ahead of them. Following the Notre Dame Tri-Match, Point Park will play conference road matches for three straight weekends before returning to the Student Center on Oct. 22.
"Traveling definitely takes its toll, but going into someone else's home gym and taking control and winning on their court makes a win that much more rewarding," Castelli said. "So it motivates us to always play our best."