Volleyball splits RSC matches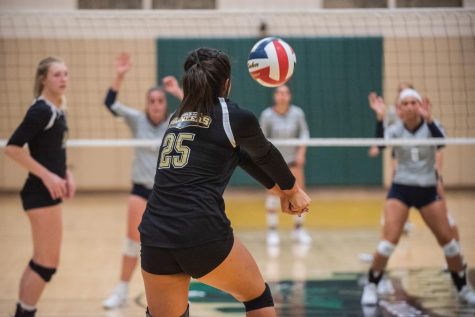 Point Park volleyball lost their top spot in the conference division after splitting its weekend of River States Conference contests.
The Pioneers started the weekend on a high note with a sweep of Ohio Christian University. Point Park stole the match by a slim margin at times by scores of 26-24, 25-19 and 26-24.
"For us to go into extra points is because we didn't play consistent enough this weekend," middle hitter Jazlyn Rozier said. "We chose when we wanted to play and take plays off. We need to play consistently every single game every single play."
Point Park maintained control in the second set but trailed in sets one and three before collecting their thoughts to seal the Eagles' fate.
Senior outside hitter Haley English recorded the team-high of 11 kills including the game-ending kill. Seniors Brittney Bianco and Maria Ferragonio dished out 16 and 11 assists, respectively, to the attack. 
"Against Ohio Christian, we stayed aggressive and used their mistakes to our advantage," English said.
Setter Julia Menosky and defensive specialist Micaela Shevell collected 11 digs each in the back row. Rozier highlighted defense at the net with four blocks, and hitters Kristy Lippert, Madison Sima and Taylor Small chipped in two apiece.
With one game finished, the Pioneers prepared for the divisional showdown with Indiana University East. Point Park and IU East were tied at the start of the day for No. 1 in the RSC East rankings.
By the end of the match, only IU East remained.
"In Saturday's game, we lacked communication which caused us to play as individuals, but we're looking forward to playing them again so that we can get our revenge," English said.
Set one tied at 25-25 before the Red Wolves scored the final two points to gain a 1-0 advantage. Point Park found itself neck and neck with IU East midway through the second set before the Red Wolves took control and increased the Pioneers' deficit.
Point Park took the lead by one point in set three, but that was the closest the team came to a chance of winning. The Red Wolves closed out set three, and ultimately the game, with a final score of 25-20.
IU East posted 46 kills compared to Point Park's 27. The Red Wolves boasted a hitting percentage of 17.4% as the Pioneers fell flat at 4.1%.
Rozier highlighted the net once again, but this time on the attack, with nine kills. Bianco and Ferragonio were repeat stat leaders in assists totaling 14 and 11, respectively.
The Pioneer defense was put to work with Menosky collecting the team-high 11 digs. English and Shevell picked up nine digs each, and Bianco and Ferragonio also contributed eight apiece. Sima remained a top defensive player in the front row, finishing with four blocks.
English looks forward to the IU East rematch at home on Nov. 8.
"We now know what to expect against IU East and being home should give us the advantage," English said. "If we focus on the basics and staying disciplined, we should have no problem getting the win."
The Pioneers, now 14-6 (4-3 RSC), are tied with West Virginia Tech for second place in the RSC East.
"Although we didn't get the results we wanted, we continue to strive to improve our play as a team and hope to have better results this upcoming weekend," Ferragonio said.
Point Park will take to the road once again this weekend for another road contest against RSC West opponents Indiana University Kokomo on Friday and Cincinnati Christian University on Saturday.
IU Kokomo leads the RSC West with an undefeated conference record, and CCU finds itself on the opposite end of the rankings and has yet to win a RSC contest, as of Oct. 14.
"I think we're going to work on the individuals on the court of having that mindset of wanting to win," Rozier said. "We know that we have a target on our backs and teams want to beat us."