Men open season with home win, weekend games in Miami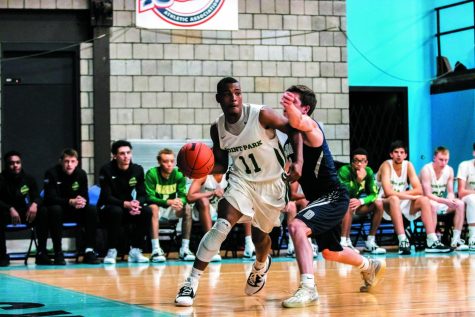 The men's basketball team was not messing around in their home opener against Penn State-DuBois on Tuesday night.
The Pioneers defeated the Nittany Lions to the score of 81-64, scoring the first points of the game and never looking back.
Kameron Shockley, a sophomore guard out of Ohio, started the game off hot and went on to win Player of the Game. Shockley finished with 16 points and led the team in assists and rebounds with four and seven, respectively.
Sophomore guard Sherron Schifino led the team in scoring with 17 points and shot 7-for-11 from the field.
"I think we did a great job staying disciplined offensively," junior guard Mark Shehady said. "We have enough skilled players that we don't need to try to make difficult plays, but rather we can trust each other to make the right and smart play."
Point Park jumped  out to an explosive 19-7 lead in the first five  minutes of play and would keep Penn State at arm's length the entire game, leading by 19 at multiple points and never letting their lead go any lower than seven.
The men  did not have long to relax though. The team flew to Florida the next day for a weekend series in Miami, where the team would face three different National Association of Intercollegiate Athletics (NAIA ) powerhouses in Florida National University (FNU), St. Thomas University, and Johnson & Wales University.
"This is a business trip, so we're going down there with the mentality to win every game," Schifino said.
"Miami is a hot bed for NAIA teams," head coach Joe Lewandowski said. "It gives us a chance to expand our schedule and face off against some stronger teams like FNU."
FNU was averaging over 90 points per game before facing off against the Pioneers. Point Park would pull through with a win at 99-85 in the high scoring affair.
The men suffered their first defeat of the season the next day, falling to St. Thomas 89-67, after shooting only 25% from the field with a 29-point first half.
Sunday was another harsh shooting day, as the team shot for less than 25% from beyond the arc and fell to Johnson & Wales 83-74.
The team led 39-36 at the half, but lost it just 11 minutes into the second half. Johnson & Wales would not hand that lead back to the Pioneers for the remainder of the game. The Pioneers scored just 12 more points before the end of regulation.
The Pioneers finished the weekend 1-2, with a record of 2-2 on the season as of publication.
The team travelled back home Sunday night after their final game, giving them time to practice and rest until their next game on Friday at Penn State-New Kensington. The men won't play at home again until they play Bryant & Stratton-Buffalo on Saturday.