Pa. Secretary of Education speaks with organization student leaders
Pedro Rivera pays visit to campus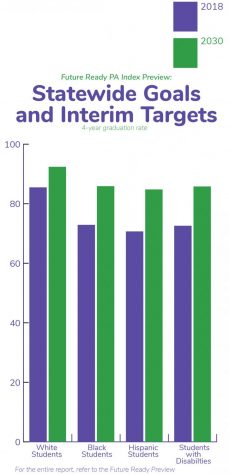 On Friday, Nov. 1, the Pennsylvania Secretary of Education, Pedro Rivera, visited campus.
Secretary Rivera was the keynote speaker Friday evening at the National Association for the Advancement of Colored People (NAACP) Gala Dinner at the Edgewood Country Club, but he made time to stop by the university Friday afternoon.
Part of his visit consisted of a two-hour question and answer session with some of the university's student leaders. Those present included representatives from the United Student Government (USG), the Black Student Union (BSU) and the School of Education.
"I am honored to be your Dean of Students because of the thoughtfulness that you have in your questions," Dean of Students and Vice President of Student Affairs Keith Paylo said. "They were very pointed questions. They were very appropriate questions to the topic. I was told by the Secretary himself how impressed he was with the students."
The Secretary of Education spoke with students regarding the topic of 'Underrepresented Students.'
Paylo saw Secretary Rivera's visit as a great opportunity.
"There was an opportunity since he was coming to town for him to kind of have a discussion with leaders from the NAACP and other colleges and universities…because of various initiatives that we are all carrying out with the topic of underrepresented students," Paylo said.
A luncheon was held with leadership of NAACP and representatives from area colleges and universities including University of Pittsburgh, Chatham University, California University of Pennsylvania and Grove City College, according to Paylo.
During the talk, USG President Jake Berlin cited the "Future Ready Index." The Pennsylvania Department of Education's website describes the Future Ready Index as "the result of discussions with thousands of educators, parents, advocates, policymakers and business leaders across Pennsylvania about how communities should evaluate schools." Berlin brought up how, in the Index, there is a clear discrepancy between the "proficiency goals" listed for white students versus students of color.
Berlin stated that in the Index, white students were expected to make academic increases from percentiles in the 60s to percentiles in the 80s, and that students of color were expected to increase from the 40s to the 60s.
"Both of those are 20 point increases, both of those are huge improvements, but there's still that disparity between the two," Berlin stated. "The alignment is better in college and career natures, where schools are still pumping everyone out at the same rate, but they're not as advanced in their academic success."
Berlin then asked the Secretary if he had any ideas to close the gap and boost overall performance.
Secretary Rivera addressed the disparity described by Berlin by explaining that, while it was somewhat uncomfortable of a figure to acknowledge and address, his department was trying to improve the disparity.
"Where we are trying to make up for that is when you look at our growth factors," Secretary Rivera said. "So our student groups that are starting off lower, there's an expectation of greater growth year to year. And so when we created the metrics, it was focused on growth factors to ensure that students who are in the bottom at the lowest quartile, and not just by race and ethnicity but also by social economics, to have greater and more significant growth than students who are already at the highest…it was an uncomfortable conversation to have as well, but it's wanting to set the standard, but there's an expectation about pacing as we try and run with what our measurements were."
Dennis McDermott, a sophomore education major, was present at the event and brought up the issue of hunger and food insecurity in higher education. McDermott cited a study that was discussed at a previous Pittsburgh Student Government Council meeting. The study was conducted across higher education institutions in South Western Pennsylvania, and discovered that Point Park University has the highest rate of food and housing insecurities in the Pittsburgh area.
The Secretary stated that the First Lady of Pennsylvania, Francis Wolf, had actually taken on food insecurity as one of her main focuses. He discussed the possibilities of changing the requirements to qualify for SNAP benefits as well as additional efforts, such as Swipe Out Hunger, where students with meal plans can donate their unused meal swipes. He also stated that Temple University had been commissioned to conduct a similar study of institutions across the remainder of Pennsylvania.
The Secretary of Education also described his Department's effort to incentivize the creation of arts programs at public schools across the state.
"We don't have a lot of influence, but what we are able to do…is share the research around it," Secretary Rivera said.
The Secretary also discussed the state's creation of the "Equity and Inclusion Task Force" to address the issue of racism in schools.
"We ended up having the betterment of education," Rivera said. "We saw some of what was happening around race and gender and sexual identity, and it was not good enough. And we needed to be the voice against it…you just have the conversation and lead. When we were addressing this issue, and all of the issues we address, we do exactly what we're doing here. We didn't assume we knew anything. I am fortunate to be a man of color, but I also acknowledge the fact that I am a man…I can't represent what I'm not, and that meant we brought to the table people who can represent. And that means sometimes it's a big table."
In regards to Point Park's own initiatives to represent underrepresented students, Paylo said discussions with outside organizations and other colleges and universities allows Point Park to be introspective.
"When we have discussions with organizations such as the NAACP, and we can compare ourselves to other colleges and universities, then we can kind of mark ourselves of where we are at in our charge to represent underrepresented students," Paylo said. "How do we perform in making sure that we are sensitive to the needs of students of color, LGBTQ+ students or Latinx students, all those different groups and organizations…We care, we recognize it and we are striving to be the best that we can be."
Additional reporting contributed by Editor-in-Chief Dara Collins.