Pioneer Public – Brianna Fallahee
Written By Hannah Walden, Co-Features/A&E Editor
November 13, 2019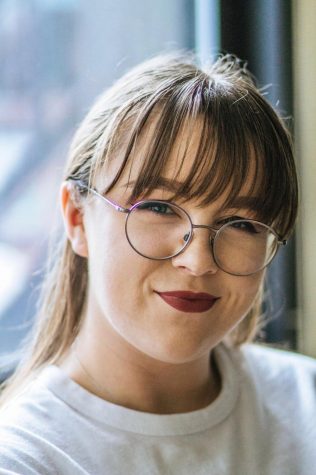 Sophomore theatre arts major Brianna Fallahee started in theatre at a young age. At 8 years old she was cast as Glinda the Good Witch in the Wizard of Oz. From there, she continued in a number of shows and continued her training in college.
"The puffy, sparkly pink dress was a big selling point for me, and after that, I was hooked," Fallahee, 20, of Clearwater, Fl., said. "I was involved in almost every single production after that, even into middle and high school. Some of my favorite roles I've ever done in school were the Witch in 'Into the Woods,' Fiona in 'Brigadoon,' Marty in 'Grease' and Alice in 'Alice in Wonderland.'"
Outside of her middle and high school productions, Fallahee also participated in shows in community theatres and summer intensives. She says her favorite roles from these performances are Anybodys in "West Side Story," Anna in "Spring Awakening" and Elle Woods in "Legally Blonde."
She attributes her acting experience before attending Point Park, and formal training she received at Point Park to being cast as Marion in "Bad Panda," a student run show by Pinnacle Productions.
Written by Megan Gogerty and directed by Allison Svagdis, "Bad Panda" is about the last two pandas on Earth (or so they think). Marion and Gwo Gwo, the two pandas, feel it is their duty to procreate in order to keep their species alive. However, a pesky alligator named Chester enters the relationship and the truth is revealed in multiple ways.
"I'm so happy to be making my debut with this wonderful little skit," Fallahee said of "Bad Panda" being her first show at Point Park. "It's already so special to me."
For this role, Fallahee said she did more than just memorize her lines, she wanted to perfect the ability to tell the underlying story of "Bad Panda" and to highlight non-traditional families and how family and love can unite people in times of trouble.
According to Fallahee, rehearsals for the show started on Nov. 3 and the show will open and run from Dec. 7 through 9.
Outside of the theater world, Fallahee is an Honors student and is a member of HerCampus.