Pioneer Public – Christian Ferarro
Written By Tia Bailey, Co-Features/A&E Editor
November 6, 2019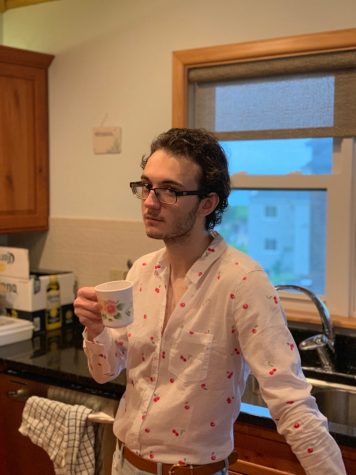 Christian Ferarro, a junior psychology major from Robinson Township, is the president of a club that was started on campus this semester. The club, Students for Sensible Drug Policy (SSDP), has been making a buzz on campus.
Along with running the Point Park chapter of SSDP, Ferarro is a part of a Psychedelic Book Club here in Pittsburgh.
Ferarro is very interested in learning about people, which is why he chose psychology as his major. "I've never been one to not question things, and people are the most interesting things in the world to me, even more than drugs," he said. "You can never learn all there is to know about someone, and neither can they."
As he mentioned, Ferarro is also interested in learning about drugs as well as people, which is a reason he got involved with the SSDP club, and ultimately ended up bringing one to campus.
"Fun fact, I had the winning D.A.R.E essay in 6th grade," he said. "I've always been interested in education in general, but more so I've been interested in correcting misinformation. At risk of incriminating myself, most all of the drugs I've had experiences with are nothing like what I was told they would be by TV and media, or even teachers whose duty it was to educate about these things."
"Students for Sensible Drug Policy is a national organization that gives college students the platform through which to educate on, and change, drug policies at any scale or level they're able to," he said. "The War on Drugs has been proven a failure and the laws that surround drugs is one that will take a long time to move away from."
According to Ferarro, the main purpose of the club is to educate students about many things involving drugs and drug use.
Ferarro's favorite part of being the president of the SSDP club is the people in it.
"It's really hard to find people who are so open and interested in something like this because of the nature of the subject matter, but having a whole club of people like this really helps bring them out of the woodwork," he said.
As a psychology major, he knows that everything is connected to psychology including drugs and drug use. Because of this, he will incorporate psychology, as well as other science and chemistry terms, into his presentations during club meetings. "I think everything has to connect to psychology, cause that's just the truth," he said. "However, as it pertains to SSDP, I guess that boils down to what I'm talking about."
"I'll always describe psychedelics, for instance, as drugs that take you into another layer of consciousness, wherein the rules are different and the way you behave and react to things are not going to line up exactly with the way you act when you're not 'tripping,'" he said.
He decided to bring a chapter of the SSDP club to Point Park because of his friend telling him about it.
"My best friend Eric Macadangdang, a member of student government up at Pitt, and I were having a conversation where I voiced my wish to 'do for drugs what drugs have done for me.' He pointed me to Pitt's chapter of SSDP and suggested I start my own at Point Park," he said. "An hour later we were in his office laying out a game plan for how to start going about this, and a week later the chapter became officially recognized."
As far as the future of the club, Ferarro hopes to host more activities and events. "I would love to have more speakers come and talk about their unique views with certain drugs, be they a doctor or an ex-felon," he said. "…I want as many people as possible to come in, get educated and spread the word."
"I've never really kept my experimentation a secret, so when asked, I'd tell, and from that it evolved to me educating myself about what exactly these things are doing to my body so I could better answer questions that first-time users (or long-time users) may have," Ferraro said. "I've always been the go-to drug authority in all of my social circles, so I guess I just really decided to fall into that title, and I'm thankful that I did."