Volleyball plagued by quarterfinals curse for 4th year, RSC hosted in Student Center Gym this past weekend
Six Pioneers collect River States Conference honors at finale of season
Point Park volleyball's season ended last Friday in the quarterfinal round of the River States Conference Championship, notching the fourth season in a row that the Pioneers hit a roadblock in the opening round.
"Although our season ended earlier than we had wanted, we still have so much to be proud of," senior Maria Ferragonio said. "We played well as a team the entire season and enjoyed every minute of it. These girls were so special and each and every person was so important to the success we made this season. This group of girls and this season will be hard to forget."
However, the Pioneers, 22-9 (12-4 RSC), did not close out the season empty-handed.
No Pioneers were named to the All-RSC First Team, but five Pioneers found themselves on the Second Team.
Middle hitter Jazlyn Rozier, right-side hitter Taylor Small, outside hitter/setter Ferragonio, libero Ashley Castelli and outside hitter Haley English represented the green and gold on the All-RSC Second Team.
Setter Brittney Bianco represented Point Park on the RSC Champions of Character Team as she best embodied the NAIA's five character values of respect, responsibility, integrity, servant leadership and sportsmanship.
"Day in and day out, Britt was one of the girls who brought passion, leadership and energy, whether it was practice or a game," Rozier said. "She was always trying her hardest to make sure every set that the hitters got from her was exactly what they wanted. She wanted everyone to succeed and give everyone the credit they deserve. She is a special player."
"When I needed a friend, she was there for me," Small said. "She never let me be down or sad. She is my sister, and I will miss her beyond everything."
The awards came after Point Park was edged out of the RSC tournament during Friday morning's matchup against Asbury University. As the No. 1 seed in the RSC East, Point Park hosted the conference championships last weekend.
Despite the home court advantage, the Eagles topped the Pioneers in a hard-fought match by 25-21, 16-25, 25-17 and 25-18. Point Park previously won against Asbury earlier this month 3-1.
"I believe we knew that we had a target on our back, and almost everyone in that gym wanted to see us fail…We looked slightly nervous and were trying to play picture perfect, but volleyball is a game of mistakes, and they happen frequently, but once we were down, we were not able to come back up," Rozier said.
Rozier says the Pioneers' mentality may have been the downfall of the match.
"We did not step onto that court with the energy we had against our big home match against IU East," Rozier said. "We all had an 'oh, shit' moment and realized too little too late this could potentially be the end of our season."
Point Park may have outgunned Asbury, but Asbury maintained the better hitting percentage. Eight Pioneers collected kills during the match with Ferragonio leading the offense with 11. Rozier followed in suit with 10, English with nine and junior Kristy Lippert with eight.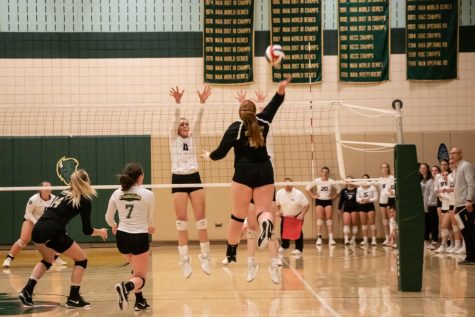 Sophomore Madison Sima chipped in seven kills as well as three blocks, and Small put down six kills.
Setter Menosky and Bianco split the match as usual with 21 and 23 assists, respectively, and collected a total of 11 digs.
Leading the Pioneer defense was Ferragonio with 19 digs and second came Castelli with 10 followed by English with nine.
The Pioneers picked up seven aces total with Menosky and junior Micaela Shevell racking up two apiece.
This loss marked the last game in the Student Center Gym for seniors Bianco, English, Ferragonio and Menosky.
"This has hands down been my favorite season out of the four years I've been here," Menosky said. "I've cherished every moment, and these girls will forever be a sister to me. It breaks my heart that the season and the past 11 years of my life playing have come to an end, but as this chapter ends, another one begins."
The returners anticipate success – and revenge – next season.
"Next season im looking for revenge," Rozier said. "I know how good we are and can be. It's my last go around, and I want to win and host conference again, and this time win the tournament and get a bid to nationals."
With an individual mission, Rozier eagerly awaits next season.
"Personally, I am ready to leave everything I have on that court every single practice and game," Rozier said. "I want to make First Team All Conference and show everyone in the RSC that the Pioneers are still the team to beat."