Volleyball wins division, set to host RSC tournament
Point Park volleyball played big games last weekend celebrating the team's four seniors as well as claiming the River States Conference (RSC) East division title.
Clinching the division title, a feat the Pioneers haven't achieved since 2016, means that Point Park will host the conference championship this weekend, Nov. 15 and 16.
"Hosting the conference tournament was a big goal of ours from day one, so we came out excited, focused and had high energy while playing IU East since we knew if we won that we would reach our goal," sophomore libero Ashley Castelli said.
Point Park beat out Indiana University (IU) East for the No. 1 spot in the RSC East by scores of 26-24, 18-25, 25-14 and 25-16 last Friday.
"We were so excited and a little nervous to play them," senior setter Julia Menosky said. "There was so much riding on this game, but even before and during the game, we wanted to win more than anything. We worked all season to get to this point, and we were all in every point."
Point Park's middle hitters Madison Sima and Jazlyn Rozier played big at the net with 13 and 10 kills, respectively. Sima, the top attacker of the match, posted three blocks, and Rozier chipped in two blocks and snagged six digs on defense.
Senior Maria Ferragonio led the attack from the pins with 11 kills, freshman Taylor Small followed with nine and senior Haley English put down six.
Setters Menosky and Brittney Bianco split the match with 18 and 19 assists, respectively, and helped out on defense with a combined 21 digs.
English led the Pioneer defense with 15 digs, and Castelli finished close behind with 14. Castelli also collected five assists and two of Point Park's four aces.
The positive momentum carried well into the next match day even as emotions ran high, especially in the seniors.
"It's a lot of mixed emotions," Menosky said. "It feels like yesterday I was a freshman and learning the ropes, and now even though it's coming to an end, I wouldn't want to go out any other way. I wanted to leave my mark and legacy, and that is exactly what I did. I'm so proud of the girls and all we've done this year. I really couldn't do it without them."
The Pioneers honored setters Menosky and Bianco and attackers English and Ferragonio, all of whom are key starters for the green and gold. Menosky is the only senior who has played in Point Park's program for all four years.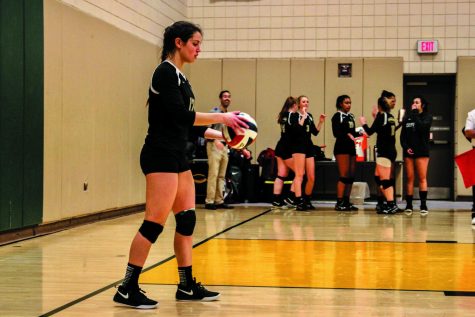 English transferred to Point Park in 2017 but sat sideline the entire season due to a torn ACL and MCL she suffered during the preseason. Bianco transferred the following season in 2018, and Ferragonio just came to the Pioneers this season.
"This year we got really lucky with our seniors because they are all such strong players on the court," Castelli said. "They are also good leaders and will definitely be missed next year."
The Pioneers dropped the first set to Ohio Christian University but reclaimed their dominance to steal the final three sets and seal their regular season record at 22-8, 12-4 RSC.
"The team has worked extremely hard to finish the season with two wins, and we are looking forward to carrying that momentum into the playoffs this week," Ferragonio said.
Ferragonio and Small played the big attackers this match with 11 kills each, and English and Rozier tied for second with 10 each. Rozier also recorded four blocks at the net. Menosky and Bianco dished out 19 and 14 assists to their attackers, respectively.
Castelli led defense with 15 digs and racked up four aces. Ferragonio also totaled four aces.
The Pioneers now look ahead to conference playoffs this weekend.
"For conference playoffs, we are working on staying more consistent, eliminating unforced errors and maintaining high and positive energy throughout each game," Castelli said.
Point Park vs. Asbury University (No. 4 West) will kick off the RSC Quarterfinals at 11 a.m. on Friday in the Student Center Gym. Brescia University, the No. 1 overall seed, will play the second matchup against Rio Grande University at 1:30 p.m.
Following the second match, an award ceremony will be held to announce the all-conference teams and awards.
If Point Park advances, they will face off against the winner of the IU Kokomo, defending RSC champion, and IU East contest at 10 a.m. on Saturday in the semifinal round. The finals will take place on Saturday at 6 p.m.
"We're working on fine tuning the little things, serving aggressive, hitter/setter connection, off-blocker defense, and just having that all in mentality," Menosky said.