Women advance to semifinal round of RSC playoffs
Written By Austin Alkire, Co-Sports Editor
November 13, 2019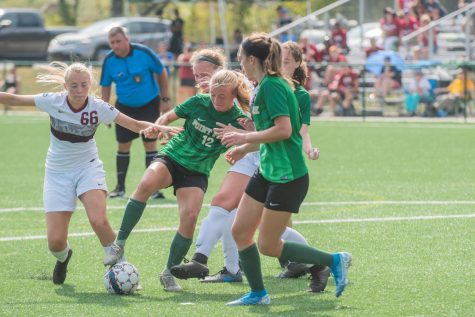 Sophomores Tia Horew and Taylor Goldstrohm ended the regular season tied for the team lead in points with 16 points each, putting them seventh in the entire River States Conference (RSC.)
Playoffs games are nothing new to the two forwards; they know what it takes to win, and what it takes to lose. "We dominated the entire game and deserved to win. [WVU Tech] didn't expect this from us and it's not our fault that they didn't prepare," Horew said.
Preparation was the first thing on first-year head coach Bethanie Moreschi's mind once the Pioneers clinched the fifth seed. "A lot of the focus was surrounding being tactically prepared against whatever team we were playing against," Moreschi said. "We had to know their strengths and weaknesses and the best way to take them on."
Moreschi praised WVU Tech, knowing the Bears provided a tough matchup in the quarterfinals round. "They have a great goalkeeper who plays a very high and aggressive line and has had an incredible season," Moreschi said. "They also have some girls who are strong and composed when finishing inside the 18. We had to really focus on our defensive shape and working to break the defensive line without playing balls over the top where they could be easily picked off."
Last time Point Park played WVU Tech, they lost 3-1. This time would be different. Same stadium; new mindset. "We went out wanting to win compared to the last time we played this team," Horew said.
The Pioneers showed their defensive shape in the first half, holding the Bears to three shots on net and no goals. Nothing was going into the opposing net for Point Park, either. "I think we played really good during the first half we just didn't get quality shots on net," Goldstrohm said.
The Pioneers did not change anything about their play going into the second half. "We just kept breaking their defensive line and happened to get a few goals," Goldstrohm said.
The first goal came from Goldstrohm under four minutes into the second half. Junior midfielder Kelsee McHugh sent took possession of the ball, sending a pass over to Goldstrohm who buried the ball past Bears' goalkeeper Jenna Miller.
That first goal set the tone for the rest of the game for Point Park. "Obviously scoring first is very important, especially in a playoff atmosphere on another team's turf," Goldstrohm said. "It took a little pressure off of us and allowed us to control the game. After that first goal, we controlled the whole second half and we built off of that momentum."
Seven minutes after Goldstrohm's tally, Horew seized the ball in the midfield and set herself on a path towards the net. "We broke their defenders left and right. It was just a matter of being confident and finishing on our opportunities," Horew said. "I saw an opportunity for me to finish and I needed to capitalize on it to help our team seal the deal with the 2-0 win."
With Horew's insurance goal in hand and nine saves from senior goalie Ashtyn Webb, the Pioneers upset No. 4 WVU Tech 2-0, advancing to the RSC semifinals to face No. 1 Asbury.
Asbury is coming off of a double-overtime thriller against Ohio Christian, in which they took down the third seed 1-0.
Last time Point Park faced Asbury, the visiting Pioneers gave up five goals in the second half, losing 5-0.
Going into their rematch with the Eagles in Kentucky on Wednesday, Moreschi and her team are looking to pick up where they left off in that first half against Asbury back in Oct.
"Asbury is a great team, but we are capable of playing with them and we proved that the first half we played them earlier in the season," Moreschi said. "We just can't let off the throttle for the entire 90 minutes or else they could use that as an opportunity. We need to take opportunities we have and capitalize."