SGA kicks off spring semester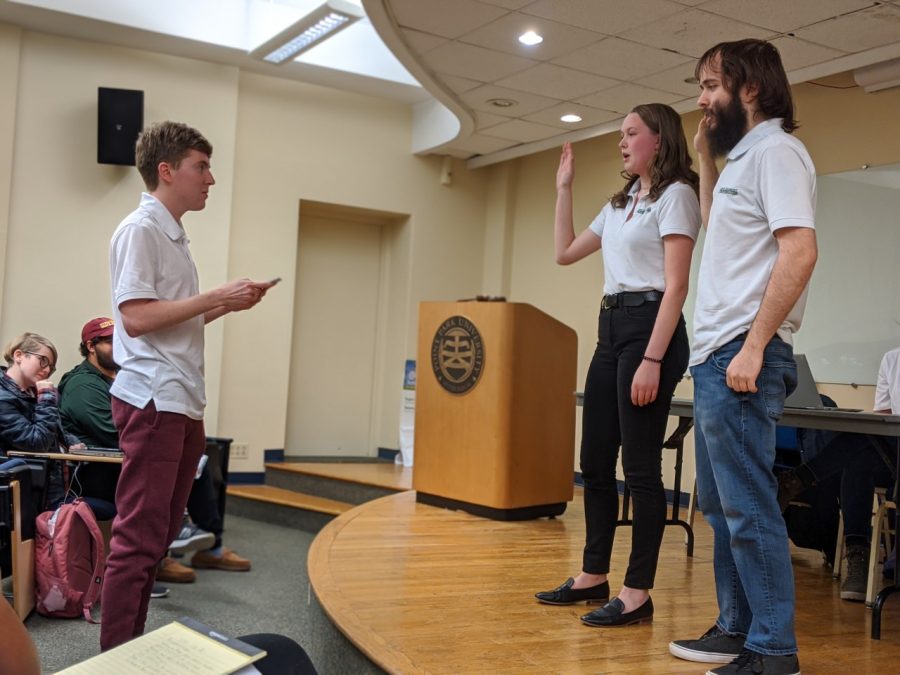 On Monday, January 6, the Student Government Association (SGA) met for the first legislative body meeting of the new semester.
Change was in the air right off the bat. Present at the meeting for the first time were five representatives from the Graduate Student Association. They were granted representation on SGA following a referendum sent out to students last semester. During the initial cabinet and senator reports, President Jake Berlin shared that shortly after a letter containing senator signatures showing support for the students of COPA in their fight for equality in regards to the cancelling of "Parade" was sent to administration, it was postponed indefinitely. President Berlin added that while there was no news regarding the Oakland shuttles, he had reached a point of understanding with the administration. That point of understanding was in regards to the purpose of the shuttles, and that if the school introduced commuter shuttles to Oakland, they'd have to send them to other Pittsburgh neighborhoods where other students live.
Recording Secretary Jordyn Hronec reported that President Berlin and herself were looking into hosting a town hall-style forum once a month where no internal business would be conducted. Instead, it would serve as a way for SGA to communicate with the student body in a way that would "channel the energy" from the student involvement in the previous year's election.
Vice President Grace Tyler Frank-Rempel took the time to acknowledge that this meeting was her first as Vice President, and now that there was no President Pro-Tempore, one would need to be elected. Senators Dennis McDermott, Bryce Hayzlett and Jade Steele were all nominated. They all gave short speeches addressing the student body explaining why they thought they would want to be President Pro-Tempore. Senator Hayzlett cited his presence at almost every cabinet meeting in the last semester as a qualification. Senator McDermott explained that he wanted to create a spreadsheet for attendance and put it in a public place so that senators could keep track of each others' attendance. Senator Steele noted that SGA was something that she did in her free time, as an education major, and it would be something that she'd be able to commit a lot of time to this semester.
After ballots were passed out and collected, it was revealed that Senator Steele received one vote, Senator McDermott received eight and Senator Hayzlett received 12, meaning that Senator Bryce Hayzlett would step into the position of President Pro-Tempore.
After two new senators, Zach Washington and Hattie Charney, were sworn in, Vice President Frank-Rempel and President Pro-Tempore Hayzlett were sworn in by President Berlin.
During the last student government meeting of the Fall 2019 semester, there was supposed to be an impeachment trial for Senator Mathew Johnson. However, the trial did not occur, as Johnson sent in his resignation to President Berlin. President Berlin read the letter aloud, and Johnson clarified that he was not resigning due to the impeachment trial, but due to his own personal reasons. However, Parliamentarian Jess Wrzosek was called upon to reveal the results of the impeachment investigation.
Parliamentarian Wrzosek revealed that she contacted all 10 of the students who were listed on the proposed club Turning Point U.S.A.'s club constitution. She stated that five students responded to her, and that out of the five, one student stated that their consent had not been given to be included on the list. President Berlin and Senator McDermott stated that they hoped that the body was able to "learn from" this instance. In addition to Johnson's resignation, Senator Christen Schoenle resigned from the body, citing scheduling conflicts as the reason.
On Monday's meeting, it was also announced that Senator Noah Glaister had resigned.