Turnstiles added to Lawrence Hall Lobby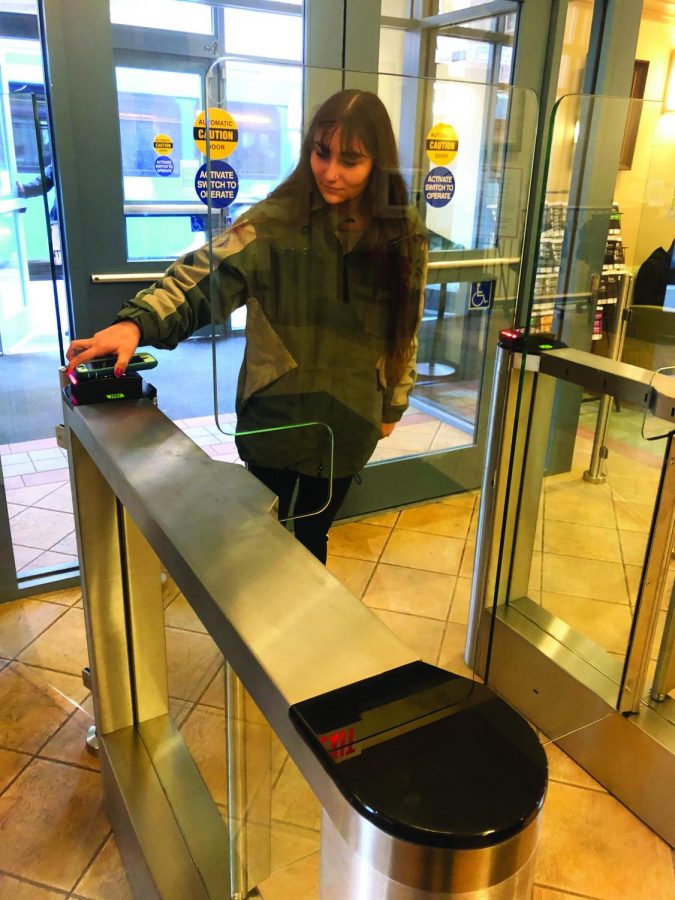 The new turnstiles that were installed in Lawrence Hall prior to the end of the Fall 2019 semester, will be functional and ready for use as Point Park rings in the new year.
In an email sent out in the early morning on Friday, Jan. 3, Dean of Students Keith Paylo, relayed a message from Chief Besong informing students and faculty that the turnstiles will be fully operational as of Monday, Jan. 16. In addition to a turnstile user guide, the email included information pertaining to larger student mail orders, luggage procedure and new visitor policies.
In order for community members to gain access to Lawrence Hall through the first floor entrance, they must place their Point Park Pioneer Card above the keypad located on the turnstile. Once the identification card has been approved, a green arrow will appear next to the keypad, and the wings will open. If a community member has luggage or bulky items, they can set it to the side of the of the turnstile or move it in front of them if space permits. When leaving Lawrence Hall through the turnstiles, no Pioneer Card is required.
If a student has large packages or mail to send out and needs assistance moving them by cart, they will be unable to use the front doors to Lawrence Hall. Instead, students will be required to use the loading dock area, located on the Third Avenue side of the building. A card reader for Point Park Pioneer Cards will be outside the doors streetside for students to use to bring large items into the building by cart.
Students who wish to bring visitors into the building, they will no longer be able to sign visitors in through the Lawrence Hall lobby; all visitors must go through Academic Hall and check in with the desk attendant. Once signed in, visitors and community members must use the second floor skybridge to access Lawrence Hall.
Chloe Hoover, a freshman broadcast production major, thinks this addition will bring some needed changes to the campus' security.
"[It's] a good idea to increase the security and safety of the students; however, we may take a while to get used to them," Hoover said. "Overall, the addition of the turnstiles will definitely improve the safety of Point Park's campus."
Although some students are for the new security measures, some are left with conflicting thoughts.
"I have mixed feelings," Emily Barkhimer, a freshman sports, arts and entertainment management (SAEM) major, said. "I think they will increase the safety of Lawrence Hall, but I also think the same issue could have been solved with another full time desk attendant, like they do in Academic Hall. This could cause a backup of people, and will affect students and faculty members' commute to classes and meetings."
This change also forces students' families who occupy Lawrence Hall to divert to Academic Hall in order to help move their students in and out.
"It makes it harder for my family and I, or even just myself alone, to move bags or other things to my room. It just seems inconvenient to me," Barkhimer said.
Kaitlyn Zoladz, a freshman forensic science major, opposes the idea entirely.
"I think that the turnstiles are inconvenient and not needed," Zoladz said. "While they may seem like an easy solution, if someone truly wanted to get in the building, a turnstile will not stop them."
"Overall they will be a detriment to the flow of students day to day, and especially after breaks when students have a lot of luggage, and of course during move in for new and returning students," Zoladz added. "They are bound to break down and stop working, and if we have to wait weeks for elevators to be fixed, how often are the turnstiles going to be maintained?"
Community members are asked to not go through the turnstile with excessive speed and to not drag luggage over the keypads, in order to keep them proficient in keeping Lawrence Hall and our campus safe.