Black Lives Matter protestor arrested, tensions rise with police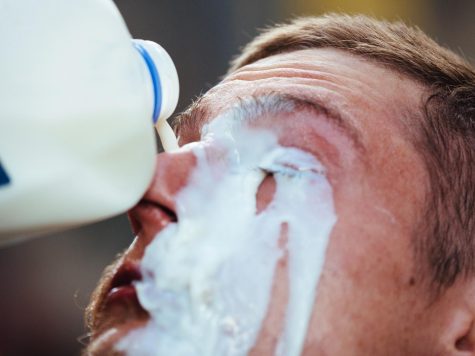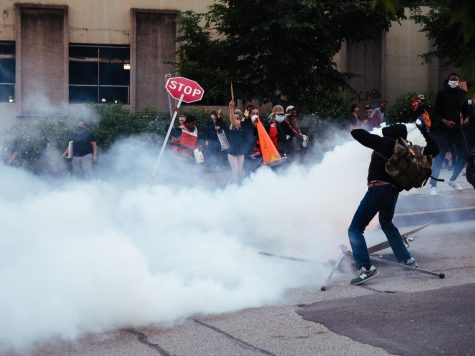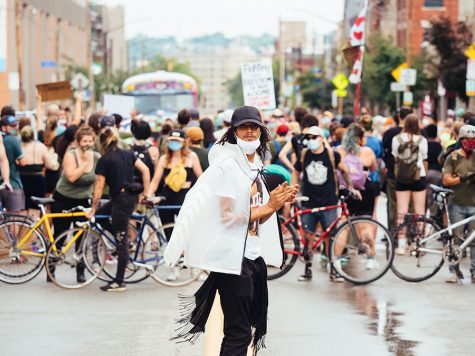 After months of Black Lives Matter protests and a string of protester arrests, on Saturday, Aug. 15, a low visibility arrest of a protest marshal in Oakland conducted by the Pittsburgh Police sparked a social media controversy and confrontation between protesters and Pittsburgh Mayor Bill Peduto.
The protest marshal, Matthew Cartier, was a part of the grassroots student-led organization Black, Young, and Educated, who have organized many of the protests called "Civil Saturdays" held every Saturday in Pittsburgh over the summer. Cartier's obligations as a marshal was to help clear traffic for the crowd of protesters.
"Our relationship with the police and Pittsburgh [have] already been on thin ice. I would say there wasn't really much of a relationship before. Now that thin line that we had is completely gone," Nicholas Anglin, the co-founder of Black, Young, and Educated stated.
Cartier claimed on his Twitter that the Pittsburgh Police approached him in an unmarked van and lured him closer by pretending to need directions around the march.
"When I approached the van to provide directions the passenger grabbed me and multiple other men sprang out of the back of the van heavily armed to arrest me," Cartier said.
The criminal complaint against Cartier stated he was arrested on charges of disorderly conduct, failure to disperse, and obstructing highways.
During a press conference held by the Mayor's Office and the Pittsburgh Police on Aug. 15, the police claimed the protesters were unwilling to communicate with the police in advance about planned protest routes.
Mayor Peduto denounced the low visibility arrest of Cartier and said it made him uncomfortable.
On Saturday evening, controversy between protesters and Mayor Peduto began with his tweet that said, "The right to assemble is a guaranteed right, the right to shut down public streets, is a privilege. That privilege is sanctioned by laws and codes."
Mayor Peduto continued to mention that these privileges were upheld by laws and codes. "In Pittsburgh, we worked with ACLU & CPRB to create our codes," he said.
In response to Mayor Peduto, the ACLU commented, "Just a quick reminder: Abducting protesters off the street, as officers did yesterday in your city, isn't just flat-out wrong — it's a violation of your own policies."
The Director of Communication of the ACLU of Pennsylvania, Andy Hoover declined to comment on the validity of criminal charges that Cartier faces.
Nonetheless, in a statement, Witold Walczak, legal director of the ACLU of PA, expressed that Mayor Peduto had previously consulted with the ACLU to develop guidelines in the handling of protests. "However, based on eyewitness accounts, the arresting officers were in clear violation of their own guidelines."
Reggie Shuford, executive director of the ACLU of Pennsylvania, continued, "Once again, police in Pittsburgh have shown why people are in the streets protesting for Black lives and against police brutality."
"Even when their behavior has been exposed for all to see, Pittsburgh Police continue to abuse the people they are meant to serve," said Shuford.
In response to the arrest of Cartier and frustration with Mayor Peduto and Pittsburgh Police, on Wed. Aug. 19, protesters congregated at Mellon Park for a protest rally and began a march to Mayor Peduto's house. Calls for Peduto's resignation ran through the theme of the protest.
According to the Pittsburgh Tribune-Review's reporting, after the police put a 10 p.m. curfew in order, they declared the gathering an unlawful assembly, pushing the crowd of protesters to Mellon Park. Once at the park, police deployed canisters of pepper spray.
In a statement released by Mayor Peduto on Aug. 21, he said, "I have repeatedly watched interactions between police and protesters that escalated to uses of less-lethal weapons, arrest methods and other actions that I do not support, and which run counter to our common principles. This is not the reform I wanted, and that I continue to believe in today."
These new guidelines include an overhaul of the current higher-ups in the Office of Public Safety, and new oversight and structure for Police Special Response Teams, which formalizes the abolishment of "jump-out arrests of protesters by non-uniformed police in unmarked vehicles," said the mayor.
Anglin, a young organizer, wasn't impressed with Peduto's back and forth stances and even called for his resignation.
 "Mayor Peduto basically stood with the police and said it was our fault. Then he flipped his statement and said 'I'm going to make sure this never happens again' and said he supported us. It just looks like their police force is completely disorganized and desperate."
In the wake of the social unrest, Mayor Peduto will implement new guidelines in hopes of reform, but Anglin isn't sold on Peduto's plans.
Anglin said, "It shows he wasn't a good leader and he completely disregarded the Black community in Pittsburgh. He tries to appeal to both sides but without giving any policy to back it."
Anglin is still determined in the fight for social justice and Black lives despite the arrest of protesters in Pittsburgh.
"They're trying their hardest to silence the movement, it is as clear as day," Anglin said.