University "de-densifies" Lawrence Hall, amidst other changes to campus
Nearly 150 students living in nearby Hilton Hotel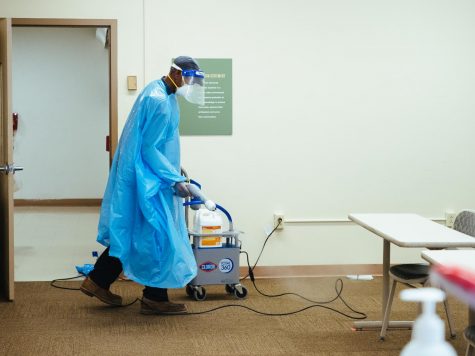 Lawrence Hall, one of Point Park's two primary freshman dorms, has been notorious for its lack of a functioning HVAC system, an issue that has plagued many residents during the warm months at the beginning and ending of the school year.
However, this has posed a new problem in the age of COVID-19, especially as the university worked throughout the summer to re-open campus for the Fall 2020 semester after an emergency early closure in the spring. And in an effort to lessen the amount of residents in Lawrence Hall, nearly 150 students are currently living in the Hilton Garden Hotel, located on Forbes Avenue just outside of Market Square. 
"The final decision was probably made sometime in July, then we started to investigate opportunities that we may have to de-densify Lawrence Hall, it was going to be in our best interest," Dean Paylo, whose office oversees the Office of Student Life, said. Paylo also clarified that it was only Lawrence Hall residents that were affected.
"There's a couple reasons for that," Paylo said. "One, the ventilation system and the HVAC doesn't exist in Lawrence Hall, so we know that for a number of reasons, including that the CDC [Center for Disease Control] recommends that fans do not blow on individuals and things like that, and so that made us think, because sometimes in August and September and sometimes in October, the only way to keep those places cool is with fans. And also Lawrence had the closest proximity of students being with each other inside of the residence halls."
The CDC's "Covid-19 Guidelines for Shared or Congregate Housing" do recommend that considerations be made for "working with building maintenance staff to determine if the building ventilation system can be modified to increase ventilation rates or the percentage of outdoor air that circulates into the system." The CDC's guidance for on-campus housing settings also recognizes that less risk is posed with on-campus housing open "at lower capacity."
 According to Paylo, every student currently living in the Hilton Garden Hotel is living alone, with one student per  room. Paylo also stated that there are several Resident Educators, or REs, living in the Hilton as well to assist those students, just as they would in the residence halls.
"I personally have not had one complaint," Paylo said. "It is a very nice hotel, I have seen the types of rooms we have over there, it's not far from campus…the hotel has been as accommodating as possible, they're very nice rooms…they're not on campus, that's the main thing I would heard, and I think leading up to it, the unknown would've been the main thing, and that's human nature."
As of right now, it is unclear  how long students living in the Hilton can expect to stay there, but according to Paylo, the university is preparing for several different scenarios. 
"It felt a little weird living in the hotel at first because it didn't really feel like I was at college. It almost felt like I was on vacation," Lillian Puntz, a freshman Forensic Science major who was moved into the Hilton Garden Hotel, said.
Alongside these concerns, Puntz and others have expressed understanding with the decisions the university is making.
"Despite concerns I think the school has handled everything regarding COVID very well. It is better to be overly cautious than to end up not being cautious enough, and I would rather be on campus under these regulations than not be on campus at all. I am hoping that in the future we will be about to lift some of these regulations, but I am OK with the way that things are right now," Puntz said.
Other students living on campus had similar sentiments. 
"If it's measures to keep everyone safe and it means we don't all have to go home it's probably the best thing to do" Dan Russo, a sophomore broadcast production major, said.
Another recent change to come out of Paylo's office had to do with a change in personnel with the university's Health Center, located on the second floor of Thayer Hall.
This year, the Health Center will be staffed by two UPMC-provided nurses. In previous years, only one nurse was employed by the Health Center. 
"We believe that we will be in a better place and better prepared by having more personnel in the health center to help our students," Paylo said. 
According to version 7 of the "Operations Manual for Returning to Campus," available to view on Point Park's website, the Health Center will be open Monday through Friday, from 9 a.m. to 4 p.m. Paylo stressed that administrative assistant Christin Smerkol will also be available to assist with "the flow and coordination of appointments."
Paylo also stated that the hours for the Health Center would be subject to change.
"Those hours may change slightly to have more coverage, we are not planning to have 24-hour service, however we do have a 24-hour telehealth service for students to call in if they would like a consult with a physician, even after hours."
Paylo urged any students with questions regarding the Health Center's operations or the university's Covid-19 plan in general to consult Point Park's website for information and updates.