University provides COVID-19 kits to all students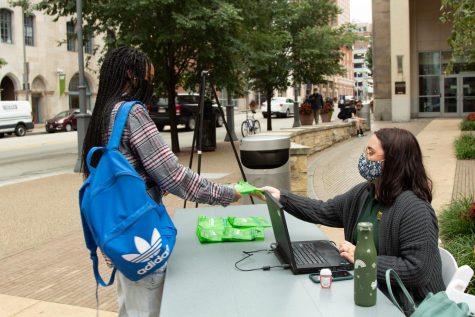 Point Park has created portable, green, prepackaged kits designed to keep people safe during the pandemic. Inside these kits are hand sanitizer, a mask, thermometer, stylus pen and pamphlet with suggestions on how to stay healthy and prevent the spread of COVID-19, all labeled with the Point Park logo.
"The University formed what we call a 'COVID Task Force' at the very beginning of the summer, in order to plan how the fall would look," Dean of Student Life Micheal Gieseke said.  "That task force oversaw everything: classrooms, living on campus and social distancing—we did the research and what the Centers for Disease Control and Prevention (CDC) and the state were asking."
According to Gieseke, such task force members are made up of faculty, staff and administrators from the Office of Student Affairs and Academic Affairs. They all came together to figure out how to provide people with what they needed to prevent the spread of COVID-19.  That is how the idea came to be to create a kit with the recommended and necessary supplies.
Through the Procurement Office, the university was able to fund the supplies and even had the office supply company, Office Depot, put together 3,000 kits. When it came to distributing the kits, it was decided to hand them out and have students pick them up for free.
"We took on the responsibility of making sure all the students got what they needed, whether residential or commuters," Gieseke said.
All residential students, approximately 100, received a COVID kit when they moved in.  While all of the staff and faculty members of the university received them before the Fall 2020 semester, Gieseke said.
Once the semester started, the Office of Student Life wanted to focus on commuters. Tables were set out in Village Park as pop-ups, and emails were sent out informing students of the kits and where they were available.
"We're trying to make sure that commuters know and get theirs. It's harder to get them [kits] to commuters who are on and off campus quickly and not for a long time," senior cinema productions major and second year Office of Student Life assistant, Caleb Gretsky, said.
All last week, the tables on behalf of the Office of Student Life were listing off commuters as they got their COVID kits by using their student IDs. As long as there are still kits left, they will be distributed until there are none. Although, it remains one free kit for each Point Park student.
"Right now, the first approach is to hand them out. We will see how successful that is, and if we feel that we need to move into a mailing situation we will do that at that time," Gieseke said.
These kits have been leaving an impact on campus by helping prevent the spread of COVID-19 and building a sense of community. It has been seen that those who receive the kits are surprised by the initiative that the university has taken to keep people safe.
"So by giving them these means of staying safe and keeping an eye on themselves and everyone else will hopefully extend our time here on campus," Gretsky said.  "Overall, everyone's liked them.
Freshman business management major Sika Pariyer said that she was left in awe once she received her COVID kit and looked inside, as she had no idea what it actually contained.
"When I saw this on the stand, I expected extra stuff like papers explaining this [COVID-19].  When I opened it, I was so shocked," Pariyer said. "This just shows how the university is careful, protecting and how they value the students. You can tell just by looking at them [kits] that they weren't cheap."
Pariyer remarked that she has not heard of other colleges that have taken into consideration the needs of students for protection against COVID-19 and believes that other colleges should follow in the footsteps of Point Park.
"I would expect Pitt to do something like this, because they're very big and can afford a lot of stuff, but I'm just shocked that they're not doing anything like this," Pariyer said. "My sister goes to Pitt, and all she says is that whenever they go in, they just have to check their temperature and use hand sanitizer and that's it."
Other students have been convinced that Point Park has done a good thing by providing students with free supplies to protect them against this virus.
"What I think about this year's pandemic is that it's pretty tough, but there's so many blessings," senior information technology major Sammy "Sam" Abdulkader said. "I think that the COVID kits are a good thing, because Point Park is helping stop the spread of COVID-19."
In all, the COVID kits are a lot bigger than they appear, because it is not just a prep kit but a larger message that the university is trying to portray.
"It's a promotional piece, in and of itself as well about the larger message of this community who needs to all do it together," said Gieseke. "That's more important and that's going to take a little time to figure out how well that message has gotten around."