Tik Tok Pasta review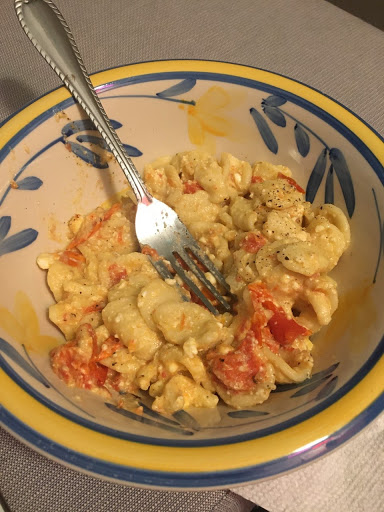 3.5 Globes out of 5
If you've been on TikTok over the past few weeks, then you've likely run across the infamous "TikTok pasta" recipe on your For You page. 
If you haven't been on TikTok though, or are unfamiliar, the pasta recipe involves putting cherry tomatoes, a block of feta cheese, olive oil, garlic cloves, salt and pepper, oregano, basil and crushed red pepper flakes into a baking dish. Then, you bake at 375-400 degrees Fahrenheit for around 40 minutes before taking the dish out of the oven, mixing the ingredients together into a creamy sauce, and adding cooked pasta.
It's incredibly simple. And it can be changed or altered easily. 
But is it as good as it looks?
In short, the answer is both yes and no. Before making it this past week, I viewed countless videos of people making it on TikTok, some taking the time to add different ingredients. But the basic recipe was the one most recreated. And for weeks, I have salivated over these videos. The pasta just looked so good. The roasted tomatoes and garlic mixed so effortlessly with the melted feta and spices, creating a seemingly zesty and uber creamy sauce for the pasta. Lots of TikTokers seemed to be enjoying both the flavors it provided and the ease with which it is made. 
And I did like it, and it was a tasty meal. But it tasted different than I had expected. Throughout the cooking process, I kept saying that it smelled like pizza, which makes sense, given the ingredients list. Yet, I didn't think it would taste like pizza. It does, though. Very much so. This isn't a bad thing because pizza is awesome, but it's something that I didn't expect. (I also ate my leftovers of the TikTok pasta the next day. And I was so hungry at this point that it was basically the best thing I'd ever tasted. So, context matters.)
There have been some TikTok pasta haters, though. And while I don't have exact science or data to back this up, some of the mixed opinions seem to be stemming from the pasta shape. One of the best looking videos of the pasta I saw used the orecchiette shape, which look like little disks. I also used this shape and it came out pretty well, though the pasta was a bit undercooked. If you go with orecchiette, give it ample time in the boiling, salted water.
However, most of the videos where the taste testers seemed to be disappointed used farfalle pasta or the little bowties. I was surprised by this because farfalle is usually my favorite type of pasta, but it didn't seem to hold or absorb the sauce adequately for this recipe. 
One TikToker that I saw added a few extra ingredients to their TikTok pasta. They added vodka and marinara sauce to the concoction, and that version of the pasta looked simply divine. This may be the next version that I try. (Yes, I am 21 and can legally obtain vodka, though the alcohol is cooked out in the pasta-making process.) When I made the recipe, I was sure to add some of the pasta water to the sauce mixture, which I haven't seen added as a step in the process. But adding some of the pasta water to your sauce is a pretty universal practice.
All in all, I liked this recipe. It was easy and didn't take long, but it felt like I was making something fancy, so my ego as a fairly new chef was boosted. I would definitely give it a try if you're looking for an easy meal that will fulfill your cravings. Or, if you like pizza. 
TikTok, keep the recipes coming. I have taken up cooking as a pandemic hobby and am always looking for new things to try.