Athlete Profile: Alyssa Campbell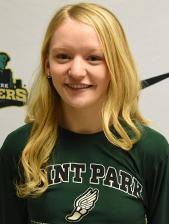 Alyssa Campbell is a 20-year-old junior public relations and advertising major from New Brighton, PA. Campbell is an All-American cross country and track and field runner for the Pioneers.
Most recently, Campbell earned All American status for the third time during her collegiate career when she placed fifth at the Indoor Track and Field National Championship on Friday, March 5. 
"For me, this accomplishment gave me confidence in my running," Campbell said. "I had gotten All American in cross country, but I knew for track it would be much more difficult. I'm feeling really blessed to have gotten it again."
Campbell also said this accomplishment was not one that came easily, with the hard work put in this season and pressure surrounding the event. 
"The journey, I'll say, was a bit challenging. I traveled to South Dakota by myself along with coaches, and I'm naturally a nervous runner before big meets like anyone else would be and a chatterbox. It was tough to be alone, but it was a growing process, and I learned a lot from it, and that's what it's all about," she said. 
Campbell also added that none of this would be possible without the help of her coaches and teammates.
"I'm so grateful for the experience, and my coaches helped me so much. They're the reason that I got to go, so I'm grateful for the wonderful coaching we have," Campbell said.
The Pioneers' Women's Indoor Track and Field team has been on a tear this year, recently named the River States Conference Champions for the fourth year in a row. Campbell is satisfied with her team's performance so far but is looking to grow even more in the coming weeks.
"I'm proud of my teammates' performances thus far," Campbell said. "In indoor, both the men's and women's teams won the River States Conference, which put us in a good place for our outdoor season, and so far, everyone seems to continue to be improving. Personally, I just want to continue to get better. I know that's a rather broad goal, but I've met a lot of specific goals thus far and exceeded others beyond even my own expectations. Now I'm just looking to keep improving."
Campbell has high hopes for the coming meets and is looking to take the upcoming outdoor meet with last year's COVID-19 cancellation.
"We plan to win the outdoor conference meet," Campbell said. "We came so close my freshman year [since last year our outdoor season got canceled], so our goal is to come back and win it." 
Despite the challenges of COVID-19, she has maintained a positive outlook.
"I love my time here at Point Park," Campbell said. "Obviously, it's been a little bit challenging with COVID being in the picture, but there's a reason for everything. My favorite part is probably like anybody else—the downtime when you get to go around the city and have fun with your friends. That's why I came here in the first place…because of the location, and it's close to home."
After college, Campbell said she is looking to stay in the city but then branch out down the road.
"After graduation, I would like to stay downtown for a few years, but ultimately I'd like to explore other cities and work in other (warm) places," Campbell said. "As of right now, I would like to be a special events planner primarily focusing on weddings, and I'll probably find another job along the way. I don't want to work the 9-to-5 life, so it'll take some time to figure out what works best for me. I'm looking at it as a growing process."
Campbell had some words of wisdom for any incoming freshman interested in running for the pioneers.
"Be aware of their time management. The sport takes a lot of commitment, and it might be stressful at times when you feel like your plate is filled. Be kind to yourself as you figure out this process. It will take time, but you will get into the flow of things," she said.