Rapper 'NF' dazzles at concert in Pittsburgh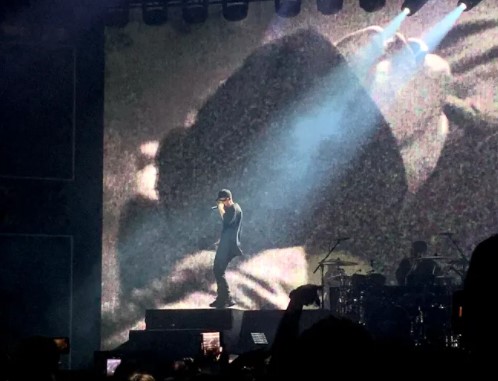 Nathan Feurerstein, known by his stage name NF, has returned to Pittsburgh after last visiting on Sept. 12, 2019. He has upgraded venues from Stage AE to The Pavilion at Star Lake which shows an evident increase in fan base over two years.
NF is an American hip-hop artist from Michigan. He is also open about his Christian faith, bringing in a varied audience, and his music appeals to adolescents, teenagers, and full-grown adults, all of whom were in the crowd. NF has released music officially since 2010, using the name after the release of his album Mansion in 2014. His first ever mixtape, "Clouds," released in early 2021 is the theme of his current tour.
As a personal fan of NF since 2019, the announcement of the tour was long-awaited after missing his performance two years ago. There were days that he was all I listened to by myself and with friends. His lyrics dive deep into spirituality and his personal life, taking just two to three minutes per song to cover topics such as domestic violence, drug abuse and mental health. These topics are handled quickly and passionately, with subjects such as his mother who passed away of an overdose when NF was only eighteen or how his sisters and himself were abused by his mom's long-term ex-boyfriend. Mental health plays a large role in his music, after experiencing trauma and being diagnosed with OCD. His faith has kept him thankful and notably "blessed" through his personal life and career as a solo Christian artist.
As a larger venue, there was still a commitment to get fans as close as possible to the stage. The crowd was upgraded into pavilion seating while walking in. The opening act, Michl, began at eight, performing soulish indie music with just a synth board and his voice. Michl was admittedly overrated but with polished vocals could be a diamond in the rough of the overcrowded alternative-pop scene. He was grateful for the little attention he got from NF fans, thanking his family for attending the show.
During a short 10 minute transition to NF's stage set-up, the crowd notably went from the relaxed vibes of Michl to excited, even energized for the upcoming artist. NF started with "Paid My Dues," and screams immediately erupted from fans. However, there was one question: who was the drummer? Quickly, the fans appreciated his style, eventually repeatedly cheering his name: Rico. Featuring "Leave Me Alone," "The Search," "My Stress," "Layers," "If You Want Love," "When I Grow Up and duet Let You Down," among others, created an environment that was truly one of a kind. The emotion poured out from the stage through every song.
The lighting and bass could be overwhelming, but at other times added to the performance well. Machines also clouded the stage with smoke. A large background screen was playing his music videos in the background the entire time, which could easily distract from what is occurring on stage directly in front of people's eyes. The rapper also managed to rap faster live than on his albums, which resulted in it being difficult to pick up on certain lyrics. His audience interaction was limited but meaningful, talking about how he recently had a baby and the energy of a particular attendee.
NF came back out on stage after saying the show was done to perform the mixtape's title song "Clouds." A video of bright clouds shifted quickly behind him. The performer stood on a tall black platform for part of the song to close out the concert in its entirety.
As well said by a group in seats next to me after every song, "No way," and "This keeps getting better," which I can only agree with. NF held an intensity that I have never seen through the concerts attended in the past. The 30-year-old rapper is a must-see after witnessing the fans who knew every word and would sing when the microphone was pointed at the crowd, drowning the confetti-filled seats in emotionally powerful lyrics.