University opens new Matt's Maker Space creative lab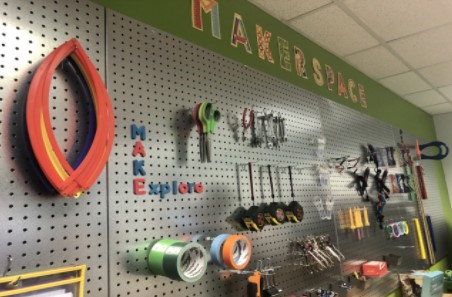 On the seventh floor of Academic Hall, education students are greeted with the vibrant colors of brand-new materials. Scissors, duct tape and hot glue guns drape across the large silver peg board at the front of the room. Placed above the peg board are the words, "Matt's Maker Space" in unique STEM-related patterns.
Point Park University is the first university to own a Matt's Maker Space lab, and it features several types of equipment including a 3D printer, virtual reality goggles, a green screen production kit and more. This lab was created to help education students learn how to teach K-12 STEM and to provide them with more insight on maker education.
Access to these new resources is aimed at assisting education majors in creating lesson plans and participating in hands-on learning, which they can implement in their own teaching upon graduation. Professors and lecturers in the School of Education will be revising their course work to ensure that they are implementing maker education and STEM in a systematic way.
"We recognized the need to incorporate this methodology in our education courses to best prepare our pre-service teachers to enter the classroom as certified teachers," said education lecturer Kamryn York.
The plan to include this lab into the school developed when an associate professor of education, Virginia Chambers, met Noelle Conover through her daughter's preschool. Both York and Chambers are now on the board of Matt's Maker Space. The students who will primarily be accessing the lab are students majoring in Pre-K through grade 4 along with students majoring in special education.
"Out of my three years being here, this is our first year having it, and it has made my experience a lot better and allowed me to express creativity," said junior and Treasurer of Future Educators of America, Cameron Meier. "With other schools having this, it would help them also be able to be creative with their minds, and it would help our future students since we will be getting so many ideas from it."
The founders of Matt's Maker Space, Noelle and David Conover, created this lab to help education students learn how to teach K-12 STEM and maker education. Maker education focuses on problem-based learning through a hands-on approach. Matt's Maker Space is a Pittsburgh non-profit organization that was founded by Noelle and David Conover in 2018. They started the organization to honor their late son, Matt, after he lost a battle with cancer when he was 12 years old.
The Conovers noticed that Matt always enjoyed hands-on learning and wanted to honor his memory by helping other students learn that same way. In 2016, the Conovers built seven maker spaces in Mt. Lebanon Elementary School libraries. Once the maker spaces in the libraries were established, they expanded and started to feature them in more schools, libraries and hospitals. The Conovers share the story of Matt and the journey of their maker spaces on their website.
These creative labs can help students problem-solve and embark on innovative and expressive learning. More schools are starting to place these labs in their schools to give students inventive freedom and to give them the opportunity to explore their interests. Kamryn York uses a formula to ensure that students are involved and challenged by using cardinal skills.
"One of the things we like to utilize is the 4 C's," York said.
In education, the 4 C's stand for communication, creativity, critical thinking and collaboration. Many educators use this method in their curriculum to challenge and help students grow in their learning. Learning maker education gives students the potential to build those important skill sets. York stressed the importance of this method and incorporates it into her teaching.
"Maker education is very similar to problem-based learning. So when you present students with authentic problems and they have to solve and apply the concepts that they are learning through being collaborative and creative, that's a way that we are building those 4 C's as well as covering content," York said.