Adjunct faculty hold demonstration during freshmen move-in day
Faculty were joined by fellow United Steelworkers members and PA-17 Democratic congressional nominee Chris Deluzio
Members of the university adjunct faculty held a demonstration during freshman move-in day today to raise awareness of ongoing negotiations between them and the university. According to members of the adjunct faculty, they were offered a one percent pay increase across the board, something they feel is unfair due to inflation.
"All we want is something fair and equitable, we're not asking for the moon," Sharon Brady, an adjunct theatre professor said. "I've been here for 21 years, I love the students, I love teaching here. I hate the fact that I have to spend my Sunday morning doing this."
Accompanied by other members of the United Steelworkers Union, they marched from the Steelworkers building to the intersection of Boulevard of the Allies and Wood Street. Once there, they handed out pamphlets and spoke with students moving in.
"We don't get any benefits, no health care… we're trying just to get pay parity." Hazel Leroy, an adjunct theatre history professor, said.
Leroy has been a member of the Steelworkers since the adjunct faculty first unionized six years ago. In that time they have negotiated two contracts with the university, with current negotiations ongoing for a third contract. She feels as though the current negotiation process has gone better because the university is utilizing in-house lawyers for negotiations as opposed to outside representation. 
"It's better talking to colleagues," Leroy said. "But still, I understand that it's their job to save money, but the thing that they're trying to save money on is your education."
Marion Dixon, secretary of the full-time faculty union, participated in the demonstration on behalf of the full-time faculty union. According to her, the full-time faculty union "fully supports" the adjunct faulty through negotiations.
Chris Deluzio, a Democratic congressional nominee for PA-17, also participated in the demonstration. He called the one percent pay raise offered "ridiculous," adding that "we're facing inflation that's far in excess of that, which essentially makes this a pay cut."
Deluzio was not the only participant to point to inflation. Guillermo Perez, a staff representative for the Steelworkers shares his concerns.
"With inflation at the rate that it has been, our folks have taken a tremendous hit and one percent is not going to address the root problem," Perez said. "They bring tremendous value, they teach nearly half of the classes here, they're extremely poorly paid, and the university should be ashamed at what they're offering."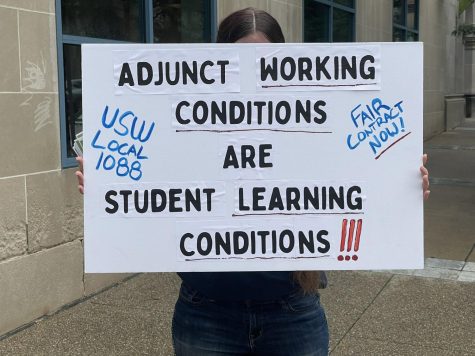 John Lepley, another member of the Steelworkers, held a sign reading "1% is for milk, not an adjunct faculty raise." Lepley said that he attended "to support fellow Steelworkers because it's the right thing to do."
"It's a sad example of what's happening in higher education," Lepley said. "Adjuncts are collectively essential but individually they're disposable and the university needs to treat them better."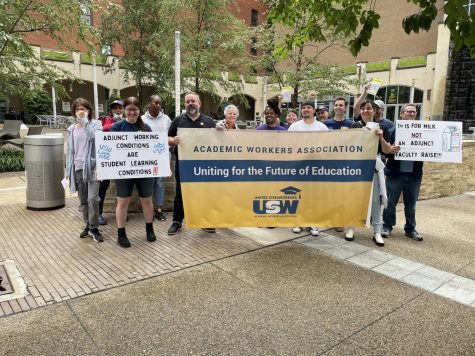 Point Park University was reached for comment but did not do so in time for publication. Should they respond with a statement this story will be updated. Update: Point Park University has declined to comment on this story, stating that they do not discuss private negotiations publicly.
Correction: John Lepley was initially misnamed as John Ledley in this article.