Professional Career Readiness Center to be relocated to Student Center in major renovations
Written By Erin Yudt, Editor-Elect
March 22, 2023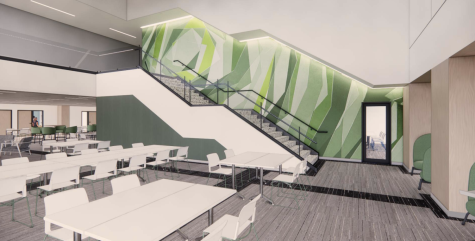 Starting mid-April, the main entrance to the Student Center will be closed due to construction, and students will have to use the back entrance on First Avenue. The Professional Career Readiness Center, currently on the fifth floor of West Penn, will be relocated to the basement of the Student Center, filling in the old YMCA pool. 
According to Chris Hill, vice-president of operations for the university, the plan to relocate the office began in 2019, but the COVID-19 pandemic put a halt to the renovations. The project is being funded by state grants and private foundation donations.
"The main idea is to make the Student Center more student centric, which is why we relocated things like the Health and Wellness Center, Physical Therapy, and other things to the space," Hill said. "The point of college is to be career ready, which this space will allow for."
The new office will include several tables and chairs in an open space, private rooms for interviews and even a classroom. Hill said the "goal" is to make a "more professional atmosphere" for employers to be brought in through the office and to hold career fairs and other events. 
Currently, the office holds weekly tabling events with employers on Wednesdays at Point Perk.
In comment to if students may be sad to see the old YMCA pool get filled in, Hill said that the unused space where the pool is located "is too valuable" left untouched and that previously surveyed students "did not want a pool."
Dean Jolin, director of the Professional Career Readiness Center, agrees that this new space is going to be valuable for students.
"The new space is going to be just amazing," Jolin said. "We want it to be open and flexible for all students… The Student Center is a hub for all clubs, athletes, so it makes more sense for us to be there and not just be a collection of offices in West Penn. The new office will allow us to expand internal and external recruitment partnerships, enhance services, be more visible and accessible, and just be a place for students to hang out in that they can also focus and network in."
Jolin hopes that the classroom space will be used for not only career visits but classes as well.
"We want classes like the career preparation seminar to be held in the new space," Jolin said. "Career readiness is just as important as other classes, and getting students in person will also allow them to see all that we offer and can help them with."
Michael Gieseke, dean of Student Life, agrees that the new space is important to support students.
"I think in today's world, with a real focus on quality jobs right out of college, a new career readiness center is a key piece for providing quality services and support for our students," Gieseke said. "One of the key components is getting local and regional businesses to come to our campus. We want to bring them to our students, not necessarily have our students go to them."
Kairi Stallsmith, a sophomore secondary history education major, is "a bit sad" to see the pool go but is "glad" to see the Professional Career Readiness Center move.
"As a tour guide, it was fun to tell people that we have this mysterious pool in the Student Center basement, but I'm glad something more useful is going in its place," Stallsmith said. 
Junior theater arts major Mason Hedge is "surprised" that the pool is finally going to be filled in.
"I know they talked about putting dance studios in there [the pool] for practically my whole time here," Hedge said. "I don't know if I'm going to use the new space, but I'm glad it's not another dance studio."
The new Professional Career Readiness Center is planned to be completed around October of this upcoming fall semester.