Black Student Union leaders kickstart new student duo bakery with free samples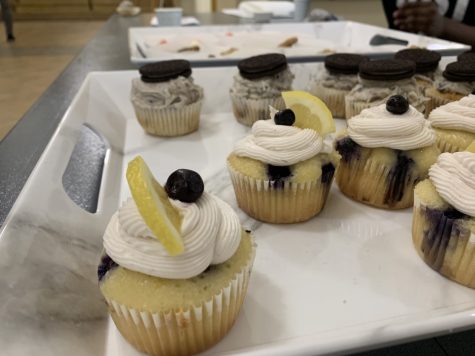 To put their foot in the door, small business owners sophomore Kayla Brown and junior Brandon Rodgers reserved a table in Lawrence Hall under the Black Student Union's name. They were giving away free samples from their new bakery to gain customers and pre-orders on their website.
"It tastes so delicious, everyone go buy it," said Jennifer Milgram, a junior dance major who was passing by their table in between classes. "It's just a party in my mouth, 10 out of 10." 
The two co-owners began the business by doing baking favors for their friends. Eventually those friends started paying them and encouraging them to expand to other paying customers. 
"It's called Kafe Kayla and we're accepting pre-orders," said Brown, a forensic psychology major and the president of the Black Student Union. "We like to bake, and we thought, might as well sell some things and get a little extra money," Brown said. "But [it's] mostly because we like to bake. We're selling Kupcakes, which are our Oreo Kupcakes and then we're selling our blueberry-lemon Kupcakes."
Everything on their menu is seasonal and starts with a K for Kayla. Brown and Rodgers have been baking together for a while, but higher prices downtown influenced their decision to transform their hobby into a business.
The duo also caters. Students passing by came for samples before Brown or Rodgers had a chance to pipe icing or put toppings on the Kupcakes. They were also giving away small, iced samples of drinks they call Katorades, like their cranberry juice and Tropi-Kale juice.
Rodgers thinks that they'll manage balancing the business and their on-campus jobs. He works as a project manager in the office of student affairs, he started his own nonprofit, The Youth Enrichment Association, and he is the advisor for the Black Student Union
"It's a youth development organization," Rodgers said when asked about his nonprofit. "Our focus is quality and affordable programming. We have after school programs, summer camps, very high-quality programs for the cheapest cost possible. I think we'll be good in terms of balance. I mean, we go home, bake a little bit and we'll bake early in the morning and then come to campus."
They work with wholesalers like Costco to get their ingredients more affordably.
"This is some cute a– branding," Renee Agben, a sophomore musical theater major said. She thought that it tasted buttery and creamy, commenting on the cream cheese frosting.
"This cupcake is deliciously moist, I actually hate cupcakes," Agben said. "I actually don't eat cake either, but yeah, I would buy this, this is really good,
Customers can view their spring menu on their Instagram at kafe_kayla and for more information or to pre-order, you can visit their website kafe-kayla.square.site.