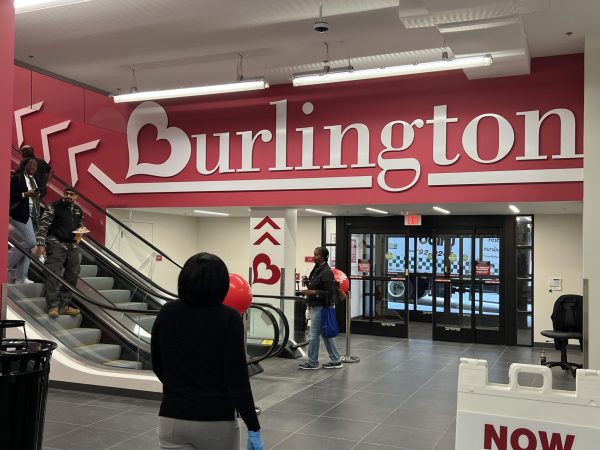 On Friday, Sept. 29 Burlington re-opened its doors in Downtown Pittsburgh on Smithfield and Forbes Ave., replacing the old location on Smithfield and Sixth Ave. The store opened its doors in the Kaufmann's Grand building, a year and a half after its next-door neighbor, Five Below. According to their website, the store offered a $10 bonus shop card to its first 100 customers 18 and up Friday and Saturday. And on Sunday, the store did an umbrella giveaway.
Mechele Hoover works Downtown and lives in Ross Township, she said that she has been coming to the Downtown Burlington location for years and was excited when she heard that a new location would be opening. 
"The other one was a bit rundown," Hoover said. "Just kind of dwindling and I was just excited to see what they had to offer in their new space. Definitely fresh, I like it, it's got a lot to offer."
At the time Hoover was shopping inside of the Burlington and pointed upward. The ceilings were left open showcasing the previous Kaufmann's building. She said that she liked how the construction of the store complimented the old building. 
"It's interesting, you know," Hoover said. "You've got kind of like the new clean and then you have the old space up above." 
Abbey Hannis is a senior theater arts major at Point Park, in the past when she spent more time on campus she visited Burlington's neighboring store, Target. Yet, she has not yet had an opportunity to visit Burlington itself. She questioned if the new store was necessary.
"I think it's helpful, I don't know marketing profit-wise, how well Target and the Five Below are doing," Hannis said. "But I'm considering that they're doing pretty well considering that Burlington moved in."
On the business side of things, Hannis thinks that it's good real estate. She said she thinks that the new store is a good thing to attract more businesses Downtown so that it attracts more people and lowers the risk of going out at night.
"I feel like bringing in more retail or more buzz to Downtown, reasons for people to come down, makes it more popularized and safer," Hannis said.
With the fast fashion industry creating lots of overflow items, Hannis said that a store like Burlington, that purchases a lot of unwanted items or overstock from other stores is beneficial. 
"It's a really good way to counter it because there's so much product being made more than there is a market to sell it," Hannis said. "That's really bad for the environment, for people in general, because you know if the environment is bad we're all going to die."