Tuesday was general election day in thirteen states throughout the country including Pennsylvania.
Several key positions were on the ballot in Allegheny County, which included Allegheny County Executive, a position that has been held by Democrat Rich Fitzgerald since 2012. 
The top two candidates included Democrat Sarah Innamorato, who served for the State House of Representatives from 2018 until earlier this year, and Republican Joe Rockey, a former executive for PNC Bank. 
At the time of this publication, according to the Allegheny County official elections website, 99.7% of the votes were accounted for, Innamorato received 186,7098 votes; Rocky received 177,775. Voter turnout was at 40.96%, with 368,830 ballots cast and 900,464 total registered voters in the county. 
At 10:30 p.m. on Tuesday, Sarah Innamorato's campaign announced via livestream on X, formerly known as Twitter, that she would be named the first woman Allegheny County executive, a Democrat, while the vote was still tallied at 97%.
Joe Rockey has not officially conceded at the time of publication.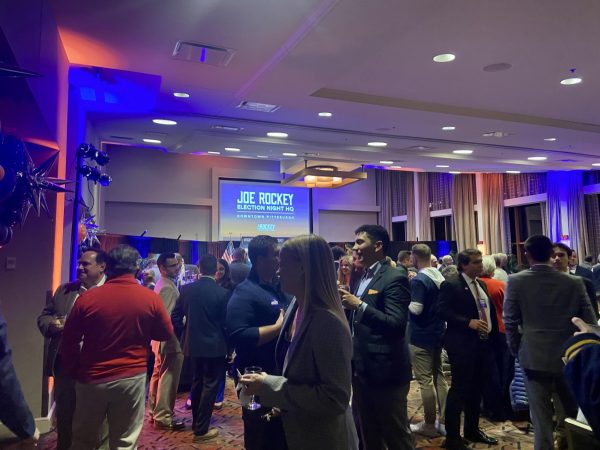 "I did get a call from my opponent, and I thanked him for running a strong campaign," Innamorato said during her acceptance speech.
Two political figures spoke at her watch party announcing her victory: first African American Mayor of Pittsburgh, Ed Gainey and first African American and youngest Lt. Gov of PA, Austin Davis.
"She will help to take this region to the next level, our relationships in Harrisburg and our relationship with you," Gainey said. "She cares; I don't want you to lead if I don't believe you care about me."
Another important area on the ballot was the District Attorney for Allegheny County. Incumbent District Attorney Stephen A. Zappala Jr., has held the county's top law enforcement post for nearly a quarter-century. At the time of publication, Zappala won with 188,215 votes versus Dugan's 176,559 votes at 99.7% of precinct's votes, going into what will now be his seventh term. 
Nick Polk, 19, of Mount Lebanon, voted on Tuesday. He said that he believes everyone should vote because it's their right and when it comes to encouraging more voter turnout, it's the responsibility of the people to want to vote rather than relying on the county to encourage more turnout.
"People really only see the highest position as the most important and they don't see [this election] affecting them as much as voting for the president would," Polk said around noon on Tuesday, talking about the low turnout for a non-presidential election.
There were 32 judges on the ballot in Allegheny County as well, including an open position for state Supreme Court Justice and a choice to let Jack Panella and Victor P Stabile Judge continue to serve on the state Superior Court.
Rahim Balla of the North Side said he dislikes how "nasty" politics can get, but despite the negatives, he appreciates that people's voices can be heard in the public forum..
He said he wished that it were a bigger election because he feels that judges don't really represent him as a voter compared to voting for president. Despite his concern, Ballad still voted on Tuesday and believes that most voters don't show up to the polls due to being uninformed. 
"They're uninformed that these little elections matter," Balla said. "Maybe they just don't know"
Neighboring state Ohio had two key issues on the ballot: keeping abortion legal and legalizing recreational marijuana for individuals 21 and older. Both were legalized.
Scott Kline Sr. served in the Army for 8 years. He is not currently registered to vote but plans to register for the next election. He currently lives Downtown and believes that it is important for people to vote for county executive so change can visibly occur in the cities and towns in the respective county.
"Look at the streets here, look how many homeless people there are, look at the tents here, and they do nothing," Kline said.
He spoke about the importance of educating younger people so turnout improves at the polls, although he also said that an individual's vote doesn't count in "the grand scheme of things."
"Your vote matters, even though in the grand scheme of things our vote doesn't matter," Kline said.
A set on the state Supreme Court was also on the ballot. At about 99% of the votes counted, Daniel McCaffery, a Democrat and a judge on the Pennsylvania Superior Court, won against Carolyn Carluccio, a Republican and a judge on the Montgomery County Court of Common Pleas, keeping the court's Democratic majority at five versus two Republicans. 
Next year's presidential and general elections will be held on November 5, 2024.