Last week, the City of Pittsburgh announced that a prominent homeless encampment site would need to be cleared by 5 p.m. on Tuesday, November 7 due to a policy enacted by Mayor Ed Gainey's administration in late August.
The policy calls for clearing encampments if:
They are located in a public space for which people can obtain a permit for exclusive use, like a city park or tennis court

The tents are on private property

There is a concern for health or safety, like human waste or trash in the open

There is evidence of sale of drugs

Tents are 10 feet or closer to roads, trails, sidewalks, bus shelters or any other public right-of-way.
Russell Beyer, a member of Community Care and Resistance in Pittsburgh, which provides transportation, supplies and other resources to previously incarcerated individuals and unhoused members of the community, was handing out food to those relocating from the encampment site. 
"It is a crazy day, a very sad day," Beyer said. "We're just here to help out in any way that we can and keep an eye out to make sure everyone can get where they need to go safely."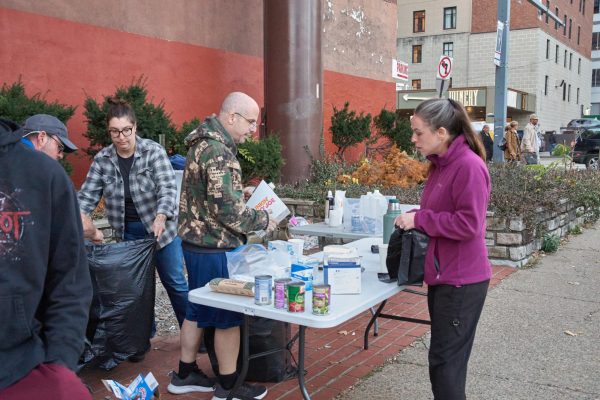 Chase Archer Evans, a member of the Homeless Advisory Board of Allegheny County, said that he was not notified of the encampment announcement three days before it was to be released, which is stated in the policy.
"I found out about the closing on Facebook… it's absolutely ridiculous," Archer Evans said. "I understand that we need to have some middle ground with the city, but at the very least we need to follow the rules."
Archer Evans said that the closure of this encampment site "criminalizes homelessness." 
"There are not enough vacancies at shelters to house these people, so forcing them to leave is a real civil rights problem," Archer Evans said. "How are you going to fine and charge people if there is nowhere to go?"
The clearing of the encampment site comes after a prominent homeless shelter on Smithfield Street closed this past June. The location housed about 100 individuals regularly. 
Other open shelters that individuals within the encampment were sent to included Wood Street and Second Avenue Commons. 
"The city has made the decision to decommission this encampment for a variety of factors, most notably the ability to make offers of housing for the estimated 7-9 individuals who live there, as well as over safety concerns for the residents of the encampment," Olga George, press secretary for the mayor's office said in an email to The Globe. 
George also said that the increased media attention has brought with it a rise in victimization and harassment of these residents. 
"We urge everyone to please respect their humanity and their dignity throughout this process," George said in the email. "This is not a law enforcement activity, and our first and foremost responsibility is to care for some of the most vulnerable residents in our city with compassion."