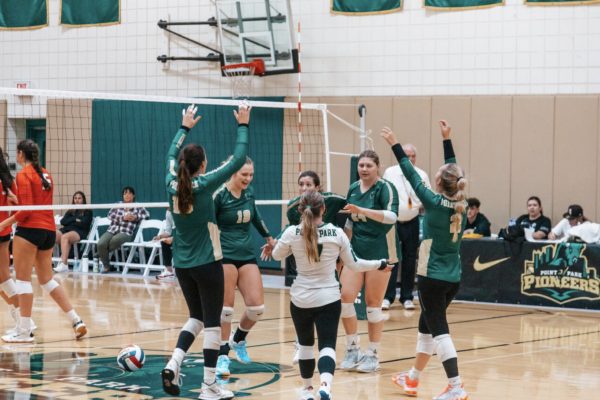 Point Park's women's volleyball looked to continue their momentum after winning their home opener convincingly in a 3-0 sweep against Salem University. 
The team had a week off until getting their chance to play a local opponent, Carnegie Mellon University. CMU looked good coming into this matchup, with many of their early season opponents being NAIA Top 25 teams. Point Park did not let these statistics bring them down as they looked hot to start this matchup. 
First set was a fight all the way through, ending in a 26-24 win for the Tartans. Point Park showed a lot of fight and pure talent. Kenzie Zauner was a player to highlight. She laid out and was flying all over the court, hustling to make a play at every given chance, ending the game with an incredible 12 digs. Commentary called the name of player Amanda Contois multiple times throughout the start of this matchup. It seemed she was making winning plays to get points all throughout the early start of this game. 
The second set was close like the first, a 25-23 win, this one being in favor of the Pioneers. This was an exciting, loud set. The crowd, the players and the energy was there throughout the whole set and most of the game. Mariah Perez was a star all game, but this set is where she really started to get going. She ended the game with 10 kills. 
The third set started a little slower for the Pioneers, with the Tartans taking an early lead. They eventually would hold the biggest lead they had all game and win this set 25-20. This set loss would be the start to the end of the battle, in which errors and slight miscommunication, would lead to Point Park dropping the game 3-1. 
The Pioneers played pretty well, though they definitely made mistakes that they looked to fix going into their away trip. Women's volleyball went on their away road trip after showing signs of potential vs Carnegie Mellon earlier in that week. This road trip was also two conference games, making it rather important. They started this road trip with what looked to be a tough matchup vs WVU Tech. Tech started this matchup with a 25-16 win, and the Pioneers look to make adjustments in order to win their next conference matchup. 
The Pioneers kept it closer but proceeded to lose the next two sets as well. This put the final score as a 3-0 win in favor of WVU Tech. The Pioneers looked to bounce back in the conference matchups following their loss vsmTech, going on to play Alice Lloyd. Point Park did just that, winning this series 3-1. Eden McElhaney recorded a whopping 24 K's in this matchup. She also put up a great 12 digs. Amanda Contois was great as well, ending the matchup with 12 K's of her own. This matchup was a huge bounce back for the Pioneers, who are now 3-6 in the season.