On a day filled with friends, family, recognition and goals, Point Park mens and womens soccer teams each took home a win over IUPUC on Senior Day. The women had a dominating 15-0 victory, and the men had a final score of 2-0.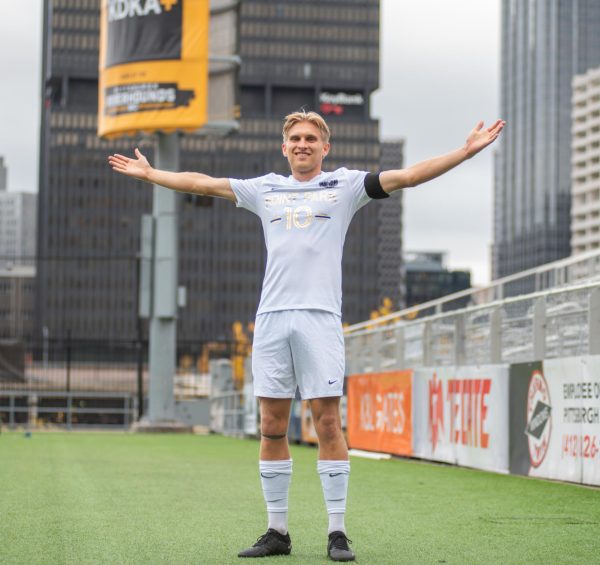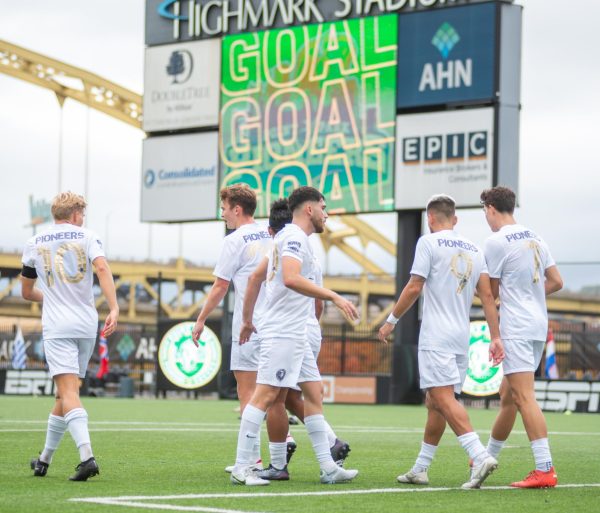 The day started off with the women's Senior Day ceremony, where players received special scarves, flower bouquets and other gifts. Senior forward Holly Pascoe spoke about her favorite part of the Senior Day festivities. "Just the camaraderie," Holly said. "Like from the minute we got here walking in the locker room the underclassmen and everybody else had set up such a beautiful display for us and then all of the seniors it's just very monumental for us."
Senior midfielder Lorena Montanes also spoke on what she enjoyed the most from Senior Day. "Just having my family here and my friends and the team of all these girls," Lorena said. "I couldn't ask for a better senior night for sure."
Heading into the match, the women were seeking to clinch second place in the River States Conference (RSC) playoffs that are set to begin this weekend. Their opponent, IUPUC –the newest addition to the RSC this year – were far out of reach of a playoff position, as they were 1-8 going into the game.  
The offensive onslaught that the Pioneers applied all game began with senior forward Chanell Britten when she scored at 7:21 in the first half.
Junior Anne Barbosa, who assisted on Britten's first goal, would extend the lead to 2-0 nearly ten minutes later with Holly Pascoe assisting on the goal. 
Senior Lorena Montanes scored a goal at 19:55 to give the Pioneers a 3-0 lead over the Crimson Pride.
Pascoe would then add two more goals herself to make the score 5-0 as the game hit halftime.
Early in the second half, Pascoe would complete the hattrick with an assist from Britten to make it a 6-0 score.
Montanes would get her second of the game and ninth on the season five minutes later to make it 7-0 Pioneers.
Mireya Rojas and Holly Pascoe would each add goals in the 56th minute to make the score 9-0.  Pascoe would be subbed out shortly after her fourth goal. She finished her potential final game at Highmark Stadium with four goals and two assists on that day.  
Pascoe currently sits atop the RSC in scoring with 15 goals and 37 points. 
Chanell Britten and Paula Sole each scored to make it 11-0 in the 60 minute of the game.  Britten's assist on Sole's goal was her fifth of the game. Britten would possibly finish her last game at Highmark Stadium with two goals and five assists.
The Pioneers would go on to finish the game with a 15-0 win after goals from Madison Spencer, Asha Mweene and Amanda Scott. Mweene and Scott each scored their first goals of the season.
"I feel like we put together what we've been working on during the whole season," Lorena Montanes said postgame. "It was a slow start, but then we started scoring goals, and I was so happy to see a lot of girls performing on that level and having fun all together and scoring some goals."
The men's Senior Day ceremony shortly followed the women's victory over IUPUC. Players were once again gifted scarves as well as special pictures. "I think the coaches and the staff around the team have done a great job hooking us up with pictures, scarves, some presents," senior forward Philipp Harder said. "A lot of people were here, all the other players made us feel appreciated, so it was overall a great day and of course the win tops it off."
At the end of the ceremony, Coach Cameron Williams received a gift of his own as his mother and sister flew in from Alabama to surprise him and see him for the first time in about ten months. "Family is everything to me, and it's been a while since I've been able to see my mom, especially, then my sister showing up, that was awesome," Coach Williams said. "As you can see I shed some tears, but it meant a lot just to have them here, and I didn't even know they were coming. It's very touching."
Getting to the game, the Pioneers started off a little slow, having to play a lot of defense in their zone and getting few shots on IUPUC's net.
Philipp Harder eventually got things going, scoring at 22:17 in the first half, assisted by fellow senior Jaume Genovard.
Harder would add his second goal of the game at 76:13 in the second half to extend Point Park's lead to 2-0. Harder was once more assisted by another senior, defender Adel Bouriah. "It's a good way to end, with two goals and of course getting the win and the clean sheet. Can't be better than that," Harder said after the game. Harder ended his season as the RSC's leading goal scorer with 13 on the season.
Later in the day, the official playoff seeding was announced for the RSC playoffs beginning on Saturday. The women secured second place, and the men solidified third.
Both the mens and womens teams will begin their quest for the RSC Championship on November 4 with both teams facing off against Midway. The women will kick off at 1:30 that day, and the men at 3:30.