Pioneer Public – David Shirer
Written By Matthew Miramontes, For The Globe
March 19, 2019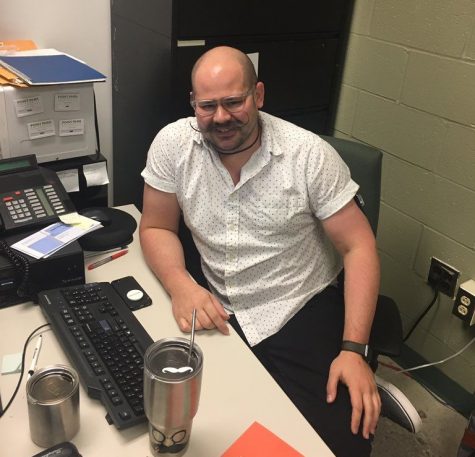 David Shirer is not just known around campus for his impressive and award-winning follicles on his upper lip, but also for his ability attitude that represents Point Park in the highest manner.
"I've been in facial hair competitions since 2014, it was something that I really found appealing," Shirer, 31, said.
He also fills the roles of the Honors Program Assistant and Student Center Area Coordinator at Point Park University.
Shirer is calm as he sits behind his desk, directly connected to the gym on the 4th floor of the Student Center. He loves the environment at Point Park and after a short hiatus working in Student Affairs at a school in Mississippi, he knew that he wanted to come back to his hometown of Pittsburgh for a career.
"Point Park has been a lot of fun, spending time with the students, the honors program aspects, or even the campus activities that get put together," Shirer said.
Shirer spends most of the time in the Honors Office or reporting through Student Affairs but tries to balance time for being involved with students as well.
Campus activities are a frequent portion of Shirer's life as he is one of the organizers of the spring break trips to New York City and the fall trips to Washington D.C. for students of the Honors Programs.
Even when he is not busy with the curricular activities and his career, Shirer is focusing on his activism with insulin dependent Type 1 Diabetics that simply cannot afford or do not have means to battle against rising insulin prices.
"I just got this last week," he said, pointing to a tattoo that states, 'Type 1 Diabetic."
Shirer was diagnosed over 20 years ago but still tries to give others a voice that are without the ability to get insulin.
Correction: A previous version of this article stated that Shirer briefly taught at a school in Mississippi. He worked in Student Affairs at that school before coming back to Pittsburgh.