Pittsburgh metaphysical store opens after owner changes career path
Written By Alexis Wary, Staff Photographer
February 15, 2023
As a child, Sabrina McQuarrie knew she belonged to the spiritual community. She had her first encounter with this world while on a trip to New York. While there, she visited a small, middle of nowhere town called Lilydale where she purchased her first crystal, a fairy-like pendulum. 
This sparked her love for this community, because she felt as if she was being welcomed with open arms. From a young age, she always felt drawn towards psychics and mediums and never questioned the realness of them. "I remember feeling at home and happy and very drawn to everything there." said McQuarrie.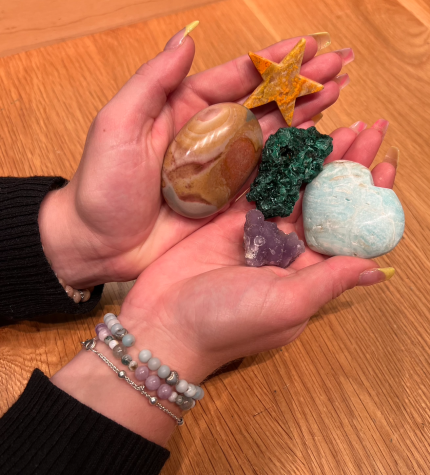 McQuarrie grew up in O'Hara Township and attended Fox Chapel High School. Knowing she wanted to venture beyond her hometown, she looked to study out of state while also being with her sister.
McQuarrie originally went to school at Clemson University with the end goal of getting into the medical field, but she found herself unmotivated to continue this path. "I was just incredibly unhappy for a lot of reasons and it wasn't just Clemson and my major. I genuinely wasn't being my authentic self." said McQuarrie.
She knew she needed to care for herself and change her life's direction if she wanted to be happy with what she was doing. She then decided to leave Clemson and transfer to the University of Pittsburgh for studio art. 
She found herself with a large amount of time on her hands and a feeling that something was missing. This eventually led to the decision to start her own business known as Sabrina's Spells and Crystals. 
Sabrina's Spells and Crystals is a metaphysical store that sells crystals, spell jars, spell supplies, and other products to aid people's spiritual needs all throughout Pittsburgh and the country. These products can be used in various ways depending on what someone is looking for. Crystals are often used as energy sources that can affect a person's energy like confidence, motivation, and stress relief. 
McQuarrie knew that part of her reasoning for opening this business was to welcome people into the community and help them know where to start. McQuarrie said,  "A lot of it is really like self care, but like putting a fun spin on it. So when you think of it that way, it's really just like loving yourself. Loving who you are and helping other people."
Despite all of this, challenges are bound to arise. She mentioned that it was definitely a crazy and daunting process. The fear of failure always lingered, heightening the pressure to make sure this succeeds. "It hasn't been easy for sure. It has been a crazy process, and definitely there's been times where I freaked out", McQuarrie said.
 To make this work, McQuarrie made large investments with support from her family and put everything she had into starting her business. Lisa McQuarrie, an attorney in Pittsburgh and Sabrinia's mother sees her business as a labor of love for others. 
She says "Sabrina's business truly reflects who she is as a person. If Sabrina is your friend, co-worker or family member, your life will be enriched, and you will feel very special."
Dee Armstrong, 58, a customer from Long Beach, Ca appreciates all of the research that McQuarrie puts into her business. "I have already recommended her store to several of my friends and coworkers because I don't trust any other crystal store after ordering from Sabrina's, and I made sure my friends knew that." said Armstrong. 
Outside of her business and spending major amounts of time with her cats, McQuarrie loves to fuel her creativity in multiple ways. As a studio arts major, painting is her main form of art style. She also likes to experiment with her crystals to create new products.
She has recently begun working on creating jewelry out of crystals, which can make carrying crystals throughout daily life more reasonable. She also has looked into the process of combining crystals and clothing together.
When looking back on her time at Clemson and the transition to starting her own business, she is thrilled at how far she has come. She said, "I am proud of how far I've come in my life and how much progress I've made to get to this point."